(CNN) -- The space shuttle Atlantis captured the Hubble Space Telescope with its robotic arm Wednesday, paving the way for astronauts to begin repairing the orbiting observatory.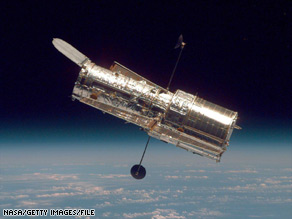 The Hubble Space Telescope hangs above Earth in a 1997 photo taken from the shuttle Discovery.
Using views from a remote camera, Mission Specialist K. Megan McArthur lowered Hubble into a cradle in Atlantis' cargo bay, according to NASA. The telescope will then be latched to the rotating, lazy Susan-type device for five days of servicing work.
An umbilical line will be remotely connected to provide electrical power from Atlantis to the telescope, NASA said. Mission commander Scott Altman also will position the shuttle to allow Hubble's solar arrays to gather energy from the sun and recharge the telescope's batteries.
The robotic-arm operation completed a delicate dance for the shuttle crew, involving periodic firings of the shuttle's thrusters to align it with the space telescope -- all of this taking place about 350 miles above Earth.
The crew plans to perform five spacewalks to refurbish and upgrade the telescope's equipment. The first spacewalk is scheduled for Thursday.
Atlantis launched Monday afternoon for NASA's fifth and final repair visit to the telescope. It has been seven years since NASA's last mission to service the Hubble, which was designed to go about three years between fixes.

Watch Atlantis lift off on Hubble mission »
Don't Miss
NASA canceled an Atlantis mission to extend Hubble's operational life in January 2004 because the trip was considered too risky in the wake of the 2003 space shuttle Columbia disaster, which killed seven astronauts. That accident was blamed on a hole punched in the front of the wing by debris during liftoff.
But public pressure and steps taken to increase shuttle safety led the space agency to reconsider.
A survey of Atlantis' outer body after launch revealed that four tiles on the right side have "some dings" in them, flight director Tony Ceccacci said Tuesday.

Watch "dings" mar shuttle tiles »
"To me, I'm not the tile expert, but they looked very minor," he said.

Ceccacci said tile experts will examine the dings, which are on the wing.

Watch debris fall during launch »
Space shuttle Endeavour is on standby in the unlikely event that NASA would need to rescue the Atlantis crew members during their 11-day mission.
E-mail to a friend

All About NASA • Space Shuttle Atlantis