By John Zarrella
CNN





FORT PIERCE, Florida (CNN) -- The chimpanzees could sense something was different.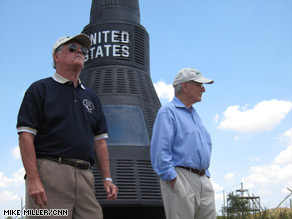 Astronauts Bob Crippen, left, and Scott Carpenter beside a space capsule at a Florida chimpanzee sanctuary.
Most days, the only people they see on their island habitats are their caretakers. But on Thursday afternoon, the chimps got a special visit from reporters and camera crews, along with two men who share a unique bond with the animals.
The place was a sanctuary run by Save the Chimps, a nonprofit dedicated to providing a permanent home for chimpanzees rescued from research laboratories, NASA facilities and other sources.
The men were astronauts Scott Carpenter and Bob Crippen, two heroes of the U.S. space program. And the chimpanzees -- some of them, anyway -- were veterans of early test flights by NASA and the U.S. military.
"We're paying them back for their service," said Carpenter, one of NASA's original Mercury Seven astronauts and the second American to orbit the Earth. He toured the sanctuary with Crippen, who piloted Columbia on the first space shuttle flight in 1981.
The two NASA heroes came to acknowledge the contributions of a group of chimpanzees known as the "space chimps."
In the 1950s and early 1960s, the space program, very much in its infancy, used monkeys and chimpanzees to test how space flight would affect the human body. Before Alan Shepard Jr. made his famed first American space flight in 1961, a chimpanzee named Ham completed a successful suborbital flight in a Mercury capsule.
"There were a lot of unknowns back in the '50s about how the human body would react to space and some real bad concerns that you might die," Crippen said. "And these guys opened that up to at least give people confidence that it was OK to go put Al Shepard and the guys up for the first time."
Ham's backup was a chimp named Mini, believed to be the only female chimpanzee trained for the Mercury program. Mini's daughter, Lil Mini, lives at the Save the Chimps sanctuary.
Save the Chimps was established in 1997 in response to the U.S. Air Force's announcement that it was getting out of the chimpanzee research business. The sanctuary first took in 21 of the Air Force space chimps. Besides Lil Mini, there are a handful of other space chimps still there.
According to the sanctuary's records, a chimp named Dana was captured for the Air Force program in the 1960s and used for research, while Marty was used for a "data acquisition flight" in 1965.
Space chimps Gogi and Gromek are here, too. Gogi was used to study the effects of rapid decompression, according to sanctuary records. Gromek was used in studies of the blood. When Gromek came to the sanctuary in 2000, it was the first time he had been out of a cage in nearly 40 years.
The sanctuary is a remote 200 acres divided into a dozen islands. Chimpanzees don't swim, so the water surrounding each island is a natural barrier. In all, there are 150 chimps here. Nearly all the others were used in medical research.
Most chimps lived in laboratory cages until they came to the sanctuary. Now they live in family groups of about 25 to each island, where they roam in enclosures. Several unoccupied islands sit ready for the arrival of another 150 former research chimps that will eventually retire here.
"These guys contributed a lot to where we are at now from a technical standpoint and a scientific standpoint," Crippen said. "It's really nice to give them a nice place to retire."
Carpenter and Crippen toured the facility in golf carts, and some of the chimps jumped and screamed when the carts approached. Others got a kick out of spitting water on visitors who got close to their enclosures.
As the two astronauts drove around, sanctuary staff members pointed out each and every chimp by name.
Carpenter is not sure the chimpanzees proved space flight safe for humans, because a chimp is many times stronger than an adult human male. But from one retired space traveler to another, he appreciates their contributions to space exploration.
"They're capable of withstanding a lot more stress than people are," said Carpenter, who turned 84 on Friday. "But ... it gave us the resolve to press on."
E-mail to a friend

All About NASA • Manned Space Flight