(CNN) -- The U.S. space agency might try to launch space shuttle Atlantis on May 11, a day earlier than scheduled, administrators announced Thursday in Houston.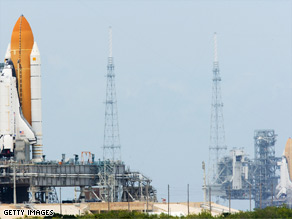 Shuttles Atlantis, left, and Endeavour sit on the launch pad in Cape Canaveral, Florida.
Moving the launch forward would give NASA three possible launch days, said the deputy manager of the shuttle program, Leroy Cain.
A decision will be made next week, he said, adding, "we are doing everything we can to make the May 11 launch."
Atlantis' mission is to repair and upgrade the Hubble Space Telescope. The original May 2008 launch date was pushed back to October for various reasons and then delayed again after the failure of a major science instrument.
"We're all very excited to see the telescope again. We haven't seen it in seven years," said Tony Ceccacci, NASA's lead flight director, referring to the last time Hubble was serviced.
After the repair of four failed science functions, Hubble will have 14 highly complex "instrumentations," said David Lectrone, the Hubble project manager.
"It will never have been better, and it's at the apex of its operations," he said.
This will be the last time that a second shuttle -- in this case the Endeavour -- will sit on a launch pad ready to rescue a mission's crew in case of an emergency. On missions to the international space station, the station itself serves as the emergency backup. A mission to Hubble will put the shuttle in a different orbit, preventing access to the space station.
Don't Miss
A rescue shuttle has been prepared for such mission since wing damage at liftoff led to the loss of the Columbia and its crew on February 1, 2003.
Administrators said Endeavour could lift off in seven days if it is needed.
Only nine missions, including the Hubble repair, are scheduled before the space shuttle program is retired in 2010. Cain said Thursday that if nothing changes, NASA has all the resources necessary to complete the scheduled missions.
This will be the fifth and final repair mission for Hubble, which has been in service for 19 years.
After the Columbia disaster, then-NASA Administrator Sean O'Keefe said that no further repair mission would be flown because of the risk. That decision was reversed in 2006 by a new administrator, Michael Griffin.
E-mail to a friend

All About Space Shuttle Atlantis • Hubble Space Telescope