From Kim Segal and John Zarrella
CNN





KENNEDY SPACE CENTER, Florida (CNN) -- NASA orbiter Discovery's launch won't take place until Sunday at the earliest, mission managers said Wednesday after postponing a launch that had been scheduled for Wednesday night.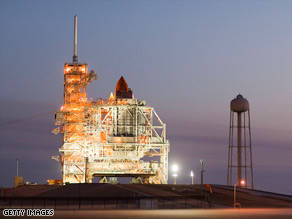 Space shuttle Discovery readies for launch, which was scheduled for Wednesday night.
A leak in the venting system outside the giant external fuel tank forced the delay, NASA said. The system is used to carry excess hydrogen safely away from the launchpad.
Liftoff on Sunday would be at 7:43 p.m., NASA said, adding that "the exact launch date is dependent on the work necessary to repair the problem."
NASA managers said they planned to meet Thursday afternoon to assess the plan. Watch an explanation of why Wednesday's launch was scrubbed

Cmdr. Lee Archambault and his six crewmates had been scheduled to lift off at 9:20 p.m. Wednesday for a 14-day mission that is to include four spacewalks.
Discovery is to deliver the fourth and final set of "solar array wings" to the International Space Station. With the completed array, the station is expected to be able to provide enough electricity when the crew size is doubled to six in May, NASA said.
The shuttle also will carry a replacement for a failed unit in a system that converts urine to drinkable water, it said.

Wednesday's delay was the latest in a series of delays for Discovery as it tries to make the 28th shuttle mission to the space station.
The launch had been delayed previously to allow time to check a "flow-control valve in the shuttle's main engines," the agency said last week. That resulted from damage being found in a valve on the shuttle Endeavour during its November 2008 flight. Three valves were cleared and installed on Discovery, it said.
E-mail to a friend

CNN's Kim Segal and John Zarella contributed to this report.
All About Space Shuttle Discovery • NASA • Cape Canaveral