By Preet Anand
For CNN





Preet Anand is a student at Santa Clara University and a member of Team California in the 2009 Solar Decathlon
(CNN) -- The smile never came off of my face as we heard who placed third, second, and first in the 2009 Solar Decathlon.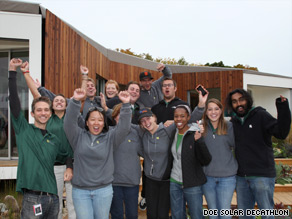 All smiles as Team California's hard work pays off with a thrid place finish.
I smiled because I knew what each team, regardless of place, had done to get here and how this experience would not only shape our future but who we are.
Team California, the partnership between Santa Clara University and California College of the Arts, placed third in the competition.
We were first throughout the week, but the rainy weather of DC forced us to turn off certain systems to conserve energy. We slid down into third place from the resulting point losses.
However, Team California won many accolades. The Refract House, Team California's home, placed first in Architecture, successfully proving our message that Green Living isn't a compromise. We also placed first in Communications, second in Engineering, and third in Market Viability. We placed in four out of five subjective judgments, and in the fifth one, Lighting, we placed sixth out of the 20 teams.

Watch video of the team on the National Mall »
Team Germany won the competition by simply generating massive amounts of energy while also sculpting an inviting interior. They understood the rules well and located photovoltaic panels on nearly every surface of their home.
Team Illinois finished second and took a different approach by focusing on extreme energy efficiency. Although they didn't feature quite as large a solar array as Team Germany, their home needed almost zero energy to condition itself, so they were able to still pump lots of energy back into the grid.
This project for me was an amazing experience and great education, from technical engineering to project management. Our team was completely undergraduate-led, undergraduate-managed, and undergraduate-designed, and I think we did tremendously well.
It is an unbelievable opportunity to be given so much responsibility and to have fans that not only believe in your project, but believe in you as people. When the weather worsened and our spirits began to darken like the clouds around us, the good wishes from home only got stronger.
The students who will come out of this project will be future pioneers and leaders in green innovation and policy. The Department of Energy, our sponsors, and our universities, did something amazing in supporting this competition: they made an investment into the future.

More than anything else though, the friends we've made will last us a lifetime. As my friend Richard Navarro, our Electrical Lead, said: "It's one team, one dream."
I think we've achieved that dream, and we're now ready to share it with the world around us.
E-mail to a friend