By Dean Irvine
CNN





(CNN) -- Jean Paul Libert knows motor sport.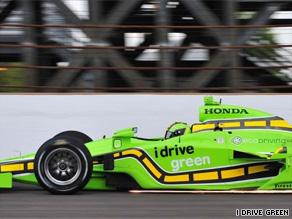 Getting the green light: IndyCar driver Nelson Philippe showing I Drive Green's colors.
But after driving at Le Mans 13 times and working with former F1-boss Eddie Jordan, the former amateur race car driver and sports marketing exec is now using his experience of the racetrack to turn commuter drivers into lean, green driving machines.
"People think that if you are a green driver, you are slow, but this is not the case," Libert told CNN. "Who better than a racing driver to show you better driving skills?"
Libert's brain-child "I Drive Green" hopes to get more people to drive better, and greener, by applying some of the driving skills and attention usually only found on the racetrack and in doing so make them more energy efficient drivers.
Utilizing real-life and online coaching and support, the project aims to create 250,000 greener drivers by 2010.
With IndyCar driver Nelson Philippe as co-founder, the team faced plenty of furrowed brows when drumming up support for the project who wondered if it was wise to equate green with the speed and thrills of racing.
But he believes that shaking off the "green equals slow and dull" image is half the battle, the rest is education.
Don't Miss
"The Obama government has made being green a big issue and there's a lot of confusion about it. Being a better driver is an obvious way to be green," he said. "On average you can easily reduce your fuel consumption and emissions by around 10 percent."
While we all have bad driving habits, the worst culprits when it comes to polluting the planet are those stop-start drivers who constantly jab at the accelerator.
"Getting rid of some of the worst driving techniques can cut emissions by around 30 percent."
Libert also believes it will make people more aware of the way they drive and thereby safer.
From classroom training where Libert and other driving coaches teach proto-green drivers about the importance of car maintenance and driving techniques, to online coaching, Libert also hopes to bring a bit of the competitive spirit of the racetrack to drivers.
Using a gadget called the EcoGyser that records each trip, drivers can upload the details of their driving and compare them against others using social networks, like Facebook and Twitter. The gizmo can be leased in the U.S. or can be bought for about $140 and contains GPS and software; an app for mobile devices is expected next year.
As well as self-improvement, the "I Drive Green" team also offer feedback on improving specific journeys analyzing tailored Google maps showing where your worst green driving crimes were committed.
Libert offers three tips to be a better, greener driver:
"Firstly, respect your car. Better understand how it works, and look after it. It's amazing what poor condition people keep their cars in. Simple maintenance like correct tire pressure is important.
"Secondly, understand you have bad habits. A greener driver is a smarter driver.
"Finally, concentrate and anticipate. Driving with finesse is much better for the planet, yourself and other road users. Avoid all the stop-starting, and basically keep the wheel rolling."
E-mail to a friend