By Hilary Whiteman
CNN





LONDON, England (CNN) -- Airbus has urged airlines to replace most of the European-made speed sensors on their A330 and A340 planes for more "consistent" ones made in the U.S.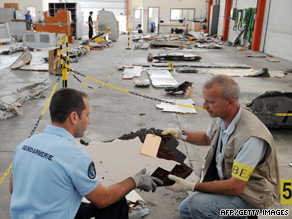 Investigators pore over wreckage of Air France flight 447 which crashed killing 228 people on June 1.
The recommendation follows a series of incidents in which speed sensors -- known as pitot tubes -- made by French defense and electronic systems group Thales have been observed to give inconsistent readings mid-flight.
Thales-made speed sensors came under scrutiny during the investigation into the mysterious crash of Air France flight 447 on June 1, killing all 228 passengers and crew.

See a map of the flight route »
The cause of the crash still hasn't been determined, but French air accident investigators said the pilots received "inconsistent" speed indications before the aircraft's perilous descent.
On Thursday, Airbus emailed an Accident Information Telex to all operators of the A330 and A340 recommending that at least two of the three pitot tubes on each aircraft were replaced by those manufactured by U.S. firm Goodrich.
The recommendation applies to around 200 aircraft owned by a number of airlines, including Air France. The majority of A330s and A340s are already fitted with the Goodrich parts. Calls made to Thales for comment on Friday were not returned.
Airbus says the timing of the alert is not based on new information received from French air crash investigators probing flight 447, but a "precautionary" response to a lack of confirmation about the cause of the accident two months on.
The aerospace group had already been examining "a handful" of cases of air speed inconsistency before the Air France crash in June.
"We found that there were some instances towards the end of 2008 that were happening and we asked some airlines to help us feed back some information in order that we could study why there seemed to be a rise in these sorts of incidents," Airbus spokesman Justin Dubon told CNN.
After the crash, airlines were urged to report any anomalies, and more cases of inconsistencies came to light.
"From that reporting back to us, looking at the pattern, that was when it was discovered that operators using the Goodrich probes had fewer problems," Dubon said.
While the Airbus recommendation carries no regulatory weight, the European Aviation Safety Agency (EASA) said it plans to make the move mandatory. A proposal to that effect will be issued within the next 14 days. An EASA spokesman says the U.S. safety body, the Federal Aviation Administration (FAA), is likely to follow.
"We're in constant consultation with the FAA on this -- and they have confirmed their support for our action. This is what usually happens. We rarely have any difference in airworthiness directives," said EASA spokesman Daniel Hoeltgen.
Pitot tubes are positioned on the exterior of aircraft. As air passes through the tube, they measure and convert the air pressure into air speed. The information is relayed to pilots in the cockpit. If three dials are all showing different speeds, the pitot tubes are determined to be inconsistent.

See pictot tubes explained »
The procedure to change the tubes is simple. Airbus says the work could be completed in an overnight stop so no aircraft would have to be taken out of service.
Aviation expert Keiran Daly told CNN the exact nature of the problem with Thales-made tubes had not yet been determined, but it related to the tube's ability to release water.
"There's a tiny hole in the bottom on of it which lets water drain out of it. What happened was that, in some instances at least, when the hole was drilled the machinery left a burr around the edge of it which was preventing the water from easily draining out."
"Now that is known to have been discovered in some cases. What has not been established is a direct link between that phenomenon and the instances that have occurred but obviously there is considerable interest in that and suspicion around that," he said.
He added: "So far, at least, there hasn't been the same type of phenomena recorded on aircraft with Goodrich tubes."

The investigation into the Air France crash entered a new phase three weeks ago. Investigators switched their efforts from detecting the missing 'black boxes' through acoustic broadcasts, known as "pings."
France's oceanographic ship "Pourquoi Pas?," which carries specialized exploration and intervention vehicles, is conducting new searches using diving equipment and towed sonar.
E-mail to a friend

All About Air France-KLM Group • Brazil