By Valerie Streit
CNN






ATLANTA, Georgia (CNN) -- When Lynn Heinisch and her neighbors in Atlanta, Georgia's Lake Claire neighborhood take their recycling to the curb for pickup each Thursday, they cross their fingers and hope for the best.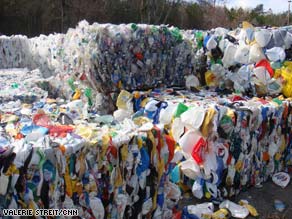 The value of recyclable materials has plummeted because of low demand during the recession.
Accusing city collectors of unreliable pickups, Heinisch and the others have resorted to stockpiling recyclable materials in their garages.
"It's frustrating," Heinisch said. "People are trying to recycle, and it's not easy. I wish it was easy to do what we all feel strongly about."
When she has to, Heinisch drives her recycling 4 miles to a dropoff center in the town of Decatur.
The recession has trashed the nation's booming recycling industry in just a few months, and cities are straining to keep their programs alive.
Demand for commodities such as cardboard, paper and glass has taken a nose dive, and prices for those materials have gone south since last fall.
In August, a recycler in Georgia could expect to receive about $160 a ton for curbside recyclables. Now the average is about $37 a ton.
In one of the birthplaces of municipal curbside recycling, Berkeley, California, recyclables yielded about $200 per ton last fall. Now it hovers around $35 per ton.
City recycling budgets pinched
Not only is the industry taking a beating, some city governments are reeling from the higher costs to run their recycling services.
"The price of the recyclable materials is not offsetting the cost the way it used to," said Mary Kay Clunies-Ross, public information officer for the City of Berkeley. "It's costing the city a lot more than it used to to provide all of our recycling services."
Last year, Berkeley received $1 million from the sale of residents' curbside recycling. The amount was used to cover the city's collection costs, according to Martin Bourque, executive director of the Ecology Center, the city's contracted pickup service.
To cover the costs of the program, Clunies-Ross said, the city will propose a 20 percent fee increase to help make up for the plummeting value of recyclables.
Atlanta has implemented a unique cost-cutting maneuver, utilizing its own garbage trucks and crews to keep its recycling program viable rather than hiring specialized curbside collectors. It saves the city $3 million a year, according to Valerie Bell-Smith, public relations manager for the Department of Public Works.
Frustration, confusion
To further reduce costs, the city is scaling back its curbside pickup from once a week to every other week, which has frustrated and confused some residents.
"There were several weeks that went by where there was no recycling pickup, and the information we got from the city was not accurate," Heinisch said.
Bell-Smith said the pickup service was never interrupted, but she admitted that there was initially some confusion after the shift to a biweekly collection.
"It's unfortunate that they have to cut back, but at the same time, if it's temporary, I understand," said Cameron Lawrence, another resident.
The tough times contributed to the demise of Atlanta's recycling facility, Dream Sanitation, forcing city officials to scramble to find another place to sell recyclables.
SP Recycling Corp., which took over the Dream Sanitation contract for Atlanta, is just one of hundreds of recycling plants across the country struggling to cope with vast amounts of materials that have diminished in value almost overnight.
"We were expecting to hit a little rain but were hit by a tsunami," said Fred Johnson, director of operations.
Only a handful of plants still accept recycling in Georgia, including SP, Johnson said.
"There have been several plants that have either gone out of business or that have simply not wanted to take the short-term losses on recycling materials," Johnson said.
Plants across the country have begun to turn away recycling trucks, and some facilities are charging to take recyclables. This is partly because reduced demand from local markets and China, the largest market for exported recyclables from the United States.
"Our fear when the market crashed was that we wouldn't be able to move the material at all. If people stop buying altogether, what would we do?" asked Bourque, whose center initiated the first curbside recycling program in the United States in 1973.
Although most cities continue to sell the materials immediately, that is not the case at a number of recycling plants that have been accumulating a cache of cardboard and plastic.
Those recycling centers are storing heaps of waste in warehouses while waiting out the market.
Some plants are even offering cities long-term contracts to dump their recycling for free so that the plants can sell it high again when the market rebounds, according to Bear Keeling, manager of Latham Home Sanitation in Georgia.
Profit motive
Recycling was not always perceived as a money-making venture. Part of the problem, according to Keeling, is the expectation of financial gain.
"It wasn't always like that," Keeling said. "People aren't interested now because they think they should be getting paid."
The demand for recyclables ballooned to all-time highs in recent years before it popped last fall. During that time, many recyclers came out ahead -- as well as the cities that retained all or part of the sales profits.
Atlanta does not receive any revenue from the sale of its recyclables as part of its contract with SP, according to Bell-Smith.
Collectors are no longer seeing the profit levels they've come to expect. But Bourque says they just have to get used to it for a while.
"It may take them a while to get through this economic downturn, but let's be real," Bourque said. "These same businesses have been doing really well for the past decade."
Dumping vs. recycling
The alternative to recycling -- dumping in a landfill -- is not a cost-effective option.
Keeling, Bourque and Johnson all insist that it's still much cheaper for cities to recycle trash than to dump it in a landfill. This is because the cost of dumping can be quite high, especially in California.
"To throw them in a landfill or burn them in an incinerator is ridiculously wasteful," Bourque said. "Eventually, there will be a demand for those materials. The market will rebound."
Regardless of the market, an unexpected benefit of the recession is that the environment still comes out ahead when people are producing and consuming less.
"Hopefully, one of the positive outcomes of the recession will be a rethinking of how people deliver products and services that is as environmentally conservative as it is fiscally conservative," said Bourque.
E-mail to a friend

All About Nature and the Environment • Berkeley (California) • Atlanta