From Doug Gross
CNN





ATLANTA, Georgia (CNN) -- There's the cobra, the cat and the downward-facing dog.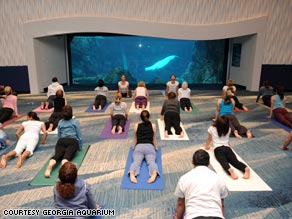 The yoga classes are held on Sunday nights in front of the tank where the aquarium's three beluga whales live.
Now, the world's largest aquarium is introducing a new animal to complement those centuries-old yoga stances -- the beluga whale.
The Georgia Aquarium -- which with 80,000 animals and 8 million gallons of water is considered the biggest facility of its kind -- has begun offering yoga classes in front of the tank that holds its belugas, whose playful nature and graceful movements have made them a favorite of visitors since the aquarium opened in late 2005.
"The beluga whales are so slow and so smooth in their movements, which is indeed what this is about -- slow movements of the body," said Todd DeLaune, one of the instructors of the weekly sessions. "And I think the energy of the belugas corresponds with the practice that we do."
The classes -- billed as the first of their kind -- are part of an ongoing effort the aquarium has made since its inception to keep things fresh and keep visitors coming back, even in tough economic times.

Watch yoga class at aquarium »
Home Depot co-founder Bernie Marcus, who bankrolled the aquarium almost entirely out of his own pocket, said in 2005 that attractions such as aquariums have a habit of starting strong but fading after a few years, something he was determined to avoid.
"We are trying to do something new all the time, so every time you come to the aquarium there's something new -- a new program, a new animal, a new exhibit," said spokesman Dave Santucci.
Santucci said the aquarium largely has weathered the dismal economy well, with a decrease in out-of-state and international visitors being offset by an increase in visitors who live within 100 miles and are forgoing long-distance trips themselves.
Children's classes will be offered at the same time as the adult ones. The cost is $20 for aquarium members and $35 for nonmembers, who also get a day pass to visit the rest of the aquarium.
At a recent preview class, student Stephanie Jolluck said the atmosphere at the aquarium enhanced her practice of yoga, the physical and mental discipline believed to have originated in India as early as 3000 B.C.
"For me, it's a dream to be here in this calm space, to watch the whales," she said. "The music ... the lights -- everything is a dream."

It's no surprise that the swirling, languid movements of the aquarium's three belugas -- Nico, Maris and Natasha -- enhance the experience, said instructor Kimberly Hard.
"The first time I came to the aquarium, I was impressed by the animals and the landscape," she said. "One has always known that the ocean generates peace and calm."
E-mail to a friend

CNN's Felipe Barral contributed to this report.
All About Georgia Aquarium • Yoga