By Jim Spellman
CNN





KENAI, Alaska (CNN) -- Mount Redoubt is ready to blow, but Alaskans are taking it in stride -- especially longtime residents who were around when the mountain last erupted in 1989.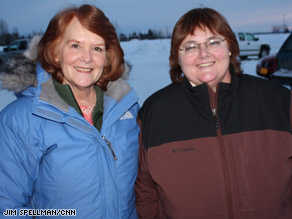 Debbie Adamson, left, and Sandy Campbell live in Kenai, Alaska, not far from Mount Redoubt.
"I looked up and there was a huge cloud," recalls Debbie Adamson. "It looked like a Disney movie, billowing up in the sky."
But what goes up must come down, and so it was with the ash from the eruption. On and off for five months Redoubt dropped ash on this community of about 7,500 people.
"It fell straight down. That was cool," says Sandy Campbell, who took off work the first day of the eruption but was back out on the streets by that evening. "The eruption was the night of the Christmas party, we didn't miss that."
Campbell and Adamson have been pals for years. They live in Kenai, Alaska, just across Cook Inlet from Mount Redoubt.

Learn more about Mount Redoubt »
In the summer months they'll be out fishing for red salmon together on the banks of the Kenai River, but on this bitter cold February day they are warming themselves with hot tea among the mounted moose heads and stuffed king salmon at Louise's restaurant on the main drag in town.
Don't Miss
When Redoubt blew in 1989, the ash coated everything in town -- making it difficult to breathe, hard on cars and nearly impossible to clean up. Both women have bought paper masks to wear, as they did last time.
"All of us did. We wore them wherever we went," says Adamson "That's ground rock. The body doesn't eliminate it, it stays in your lungs."
They have fresh air filters for their cars. Some here in town claim the best way to protect your car is to put a pair of pantyhose over the air intake on the car's engine, but the ladies remember what happened last time.
"One guy forgot to take the pantyhose off," recalls Campbell, who says a few weeks after the eruption the man's car stopped running. "They found a bunch of wadded up pantyhose in his engine."
Campbell's first experience with a volcano came in 1980, when her parents were picking her up from college in Oregon. They drove right into the ash from Mount St. Helens, but she knows this is much different. The Mount St. Helens explosion killed 57 people. With Redoubt the impact will probably be more of a nuisance than truly dangerous
"Its kind of exciting," she says. "But we're not in imminent danger."
It's all part of being an Alaskan, they say.
"It's a hearty bunch of people up here," says Adamson. "It was exciting and a wonderful thing to experience because most people are never going to see something like that."
Like seeing moose as they graze along the roads, or going out for a cup of tea when the temperature is 10 below zero, having a volcano in your back yard seems like part of life in a state known as "The Last Frontier."

When and if Redoubt erupts, these ladies will deal with it just as they dealt with the last eruption.
"We did what we had to do and moved on," says Adamson. "That's what Alaska does -- it moves on."
E-mail to a friend