China eases Internet lockdown in riot-hit west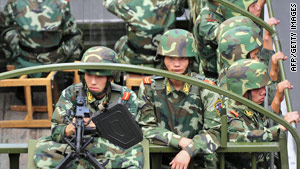 Tight security was imposed in Xinjiang in the wake of the violence.
STORY HIGHLIGHTS
Xinjiang has had limited access to govt., banking, entertainment and gamesites
Users can now visit state-run media Web sites
About 200 people killed in the riots in summer 2009
Beijing, China (CNN) -- China has begun to expand Internet access in western China's Xinjiang autonomous region after cutting service because of deadly rioting over the summer, state-run media reported.
The region's Internet users, who have had limited access to regional government, banking, entertainment and gaming Web sites since August, can now visit xinhuanet.com, a state-run news service, and people.com.cn, the online newspaper of the nation's Communist Party, according to China Daily. Both sites carry domestic and international news.
Though Xinjiang residents can browse stories on the sites, they cannot post forum comments or use e-mail, China Daily reported.
The July riots were sparked by long-simmering resentment between minority Uyghurs and majority Han Chinese. The Uyghurs are mostly Muslims in Xinjiang. Some Islamists refer to the region as East Turkistan.
"To prevent further unrest, the government blocked access to the Web and suspended international calls and short message services in the region 24 hours after the July 5 riot because they were vital tools used by ringleaders to instigate the riots in Urumqi," said Yang Maofa, director of the regional telecommunications administration, according to China Daily. Urumqi is the capital of Xinjiang.
Dozens of people have been tried for their alleged roles in the summer's clashes. More than 20 people have received death sentences.
About 200 people were killed in the riots, according to state media. The unrest continued in August, when Uyghurs were accused of attacking Han Chinese with syringes filled with various substances.
In September, China sent 7,000 security personnel to Urumqi to ease tensions after Han Chinese protested the syringe attacks.
China's constitution guarantees ethnic minorities equal rights. However, ethnic tensions run deep and minority groups such as the Uyghurs say the Han discriminate.
Xinjiang's Internet access will continue to expand, according to Yang, who said officials are planning to allow some e-mail service.
Yang said there also are plans to lift restrictions on international calls and text messaging, but gave no timeframe.
"We know the suspension of telecommunication services has caused great inconvenience to people, and we appreciate their understanding and support to the measures from the perspective of safeguarding social stability," Yang said.
Under the restrictions, some Xinjiang residents have traveled to neighboring Gansu province to more fully surf the Web, China Daily reported.