Google Nexus phone to debut Tuesday?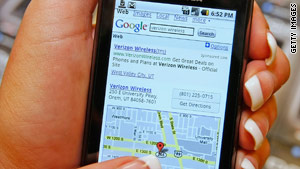 Google's new phone may steal thunder from the Droid, above.
STORY HIGHLIGHTS
New Google smart one, the Nexus One, could debut next week

Invitation to Jan. 5 press event mentions Android, Google's mobile operating system

Phone is rumored to have 5-megapixel camera, Wi-Fi and a compass

Announcement will come days before major tech conference CES begins in Las Vegas
(WIRED) -- Google's much-anticipated new phone, the HTC-designed Nexus One, could make its debut next week.
Google has scheduled a press event for Tuesday, January 5 at its Mountain View, California, headquarters. Though the company hasn't mentioned Nexus One, the invitation mentions Android, Google's mobile operating system for phones, and the company is widely expected to show the device that has had smartphone industry watchers buzzing for weeks.
The invitation-only event will be held two days before the Consumer Electronics Show begins in Las Vegas and just one day before many CES exhibitors have scheduled major press conferences.
It's a move straight out of the Apple playbook. In January, 2007, Apple famously upstaged CES when it unveiled the first iPhone at an event in San Francisco -- even as most technology journalists and executives were huddled in Las Vegas for the trade show.
Google hasn't commented about Nexus One. But recent online leaks suggest the Nexus One will be a GSM-device with a 3.7-inch AMOLED touchscreen, 5-megapixel camera, Wi-Fi connectivity, accelerometer and compass. It is expected to run the latest version of the Android operating system, Android 2.1.
Where Google could really innovate is how the phone is sold. The Nexus One is likely to be sold unlocked, which means consumers don't have to be tied into long-term contracts with telecom carriers.
T-Mobile, which offered the first Google phone, could provide "billing, coverage, features and rate plans," says TMONews, a blog that tracks T-Mobile.
The Nexus One could also go on sale the morning of Jan. 5, says the site, though there's no word yet on possible pricing.
Will Google offer expensive unlocked handsets in the United States -- a la Nokia -- or can it come up with a clever model to subsidize the device cost through mobile advertising or carrier support? Google's press conference next week should answer that question.
Subscribe to WIRED magazine for less than $1 an issue and get a FREE GIFT! Click here!
Copyright 2011 Wired.com.
FOLLOW THIS TOPIC