Mall of America tweets parking info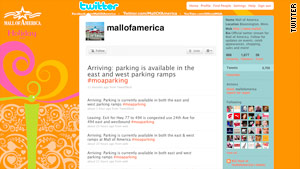 Parking tips are available on Twitter for last-minute holiday shoppers at the Mall of America.
STORY HIGHLIGHTS
Parking pain for shoppers at the Mall of America is being eased with Twitter tips
The mall's tech effort, launched last weekend, will continue through January 1
Don't text and drive, organizers say; let passengers monitor parking updates
Bloomington, Minnesota (CNN) -- One of the messiest aspects of the holiday season is fighting the holiday traffic, especially during the last-minute shopping rush. But the Mall of America, the mammoth shopping center outside Minneapolis-St. Paul, is turning to technology to ease the parking pain.
For the first time, the mall is using Twitter to give shoppers parking tips, as well as route suggestions to avoid congestion upon leaving.
After a couple of test runs, one on Black Friday, the mall launched the Twitter service on December 19 with plans to continue with it through January 1, said Bridget Jewell, the public relations coordinator behind the effort.
From 9:30 a.m. until 5:30 p.m., the mall sends one tweet every hour on the half-hour mark. For example, the first tweet Tuesday morning: "Arriving: Parking is currently available in both the east and west parking ramps at Mall of America."
Jewell said that while she feels the mall is providing a valuable service, it's doing its best to discourage texting while driving. People rarely shop alone during the holidays, she said, so having a passenger check Twitter or taking a peek before leaving for mall is preferable.
If you're planning a trip to the Mall of America and would like to check out the parking and driving updates, keep tabs on the Twitter hashtag #moaparking.