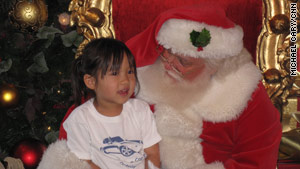 From Buddy the Elf to Santa himself, there are Christmas feeds to be found on Twitter.
STORY HIGHLIGHTS
In our Follow Friday feature, CNN.com recommends Twitter feeds on a news topic

This week's topic: Christmas-themed tweets

Radio City Rockettes gives a peek behind the scenes of the famous chorus line

Buddy the Elf character shares the fun of the hit Will Ferrell movie "Elf"
Editor's note: In this weekly feature, CNN.com highlights five recommended Twitter feeds about a hot topic in the news. Let us know whom we missed in the comments section.
(CNN) -- In case you've not been paying attention -- or somehow missed those carols that have been playing at the mall since the week before Halloween -- Christmas is next week.
Twitter doesn't have a ton of Christmas-related feeds. But we've found a few fun ones you can follow to further spice up the season.
Did we miss any good ones? Let us know in the comments section below.
@northpolepost (Father Christmas)
There are a few Santas to be found on Twitter -- at least some of whom don't seem too impressive.
But this is a pretty fun feed, with the merry old elf regularly giving news bulletins from the North Pole and answering followers' questions and gift requests.
From updates on Rudolph's recent spill on an ice patch (he's resting comfortably and will be ready to go Christmas Eve) to details on what Mrs. Claus is whipping up for dinner, it's a good way to make sure everything's going smoothly at the North Pole before the big night.
Followers: More than 1,500
Sample tweet: Got a bit distracted while building Wii's, the elves and I have been playing "Guitar Hero" Ceri Elf is the best! Hohoho!
@rockettes (Radio City Rockettes)
Their Radio City Music Hall Christmas show is legendary. But you can follow tweets from the world's most famous chorus line all year long.
Features have included the chance to "Tweet with a Rockette" to trivia questions about how many kicks the Rockettes do in one show. Answer: 300, which makes those four-show days a little tiring.
Followers: More than 5,000
Sample tweet: Backstage With The Rockettes: They Do Their Own Makeup! (And Are Full Of Great Tips): glamour.com: http://bit.ly/6HBRw6
@ItsMeBuddyThElf (Buddy the Elf)
Here's one for tweeters who try to stick to the four main food groups -- candy, candy canes, candy corn and syrup.
We're not sure if the makers of the Will Ferrell movie "Elf" are involved with, or even aware of, this account. But it is the same Buddy the Elf who has more than 1.3 million, er, buddies on Facebook, so this may be Buddy's official online identity.
Followers: About 5,100
Sample tweet: made plenty of maple syrup spaghetti for everyone. Would you like some? :) http://bit.ly/7O35Tu
This is just a simple compilation of advice on all things Christmas.
From tips on how to keep a Christmas tree fresh to news about upcoming televised Christmas specials, this feed will help get you in the holiday spirit.
Followers: About 3,500
Sample tweet: How to Get Christmas Help for Low Income Families #families #christmas #help http://bit.ly/4wlm3R
@regiftfruitcake (RegifttheFruitcake.org)
This is the Twitter feed for a goofy but good-hearted Facebook campaign. "Regift the Fruitcake" lets people bake a virtual cake devoted to one of several charitable causes.
The Facebook application then lets them send it to friends who can donate to a cause before "regifting" the cake to someone else.
"Let's make something viral something good," reads the Web site of the campaign, which has the backing of comedian Michael Ian Black -- @michaelianblack -- among others. "Why can't a fruitcake fight cancer, build houses, rescue animals?"
Followers: About 100

Sample tweet: RT michaelianblack Want to change the world with some rum-flavored high-fructose corn syrup? Regift the #Fruitcake. http://bit.ly/7fQcfy