STORY HIGHLIGHTS
The following are our top picks for the best video games of the year, divided by genre
2009's trends included sequels, co-op play, social games, handheld gaming
"Uncharted 2: Among Thieves" provided most memorable adventure in 2009
Activision's "DJ Hero" was most immersive music experience of 2009
(CNN) -- Now that video game sales have eclipsed Hollywood box office revenues and sales of music CDs, you can bet your bitmaps some extraordinarily good games were released in 2009.
In fact, therein lies the problem. With more than 1,500 games released each year -- for computers, consoles and handheld devices -- it's hard to narrow them down to a "Best of" list, let alone choose one as a holiday gift.
Video game trends for 2009 included sequels (which isn't a bad thing in the gaming world), co-op play (working together rather than against one another), social games (though the music/rhythm genre is getting saturated) and of course, the growth of handheld gaming.
But how do you know which games are worth getting blisters over and which ones will quickly become drink coasters?
Fortunately, you've come to the right place.
The following are the top picks for the best video games of the year (each of which cost $59.99 unless otherwise specified), divided by genre for your convenience.
Best shooter
Activision's "Call of Duty: Modern Warfare 2" (for Microsoft Xbox 360, Sony PlayStation 3, PC; rated M) is a gripping near-future military shooter that challenges you to face off against a Russian terrorist organization in locations such as Afghanistan, Rio de Janeiro and Washington. Along with the single-player campaign are a handful of cooperative and competitive multiplayer maps and modes that give this first-person game plenty of replayability.
Runners-up: Valve/EA's "Left 4 Dead 2" and 2K Games' "Borderlands."
Best action/adventure
"Uncharted 2: Among Thieves," from Sony's Naughty Dog studio, provided the most memorable adventure in 2009. This outstanding PlayStation 3 sequel (rated T) once again stars Nathan Drake as he searches for a legendary jewel with extraordinary power. With excellent dialogue, huge set pieces and plenty of action (including multiplayer modes), this cinematic third-person tale makes you feel like the star of an interactive movie. It also just won game of the year at Spike TV's Video Game Awards.
Runners-up: Ubisoft's "Assassin's Creed II," Warner Bros./Eidos' "Batman: Arkham Asylum" and Electronic Arts' "Brutal Legend."
Best platformer
For kids and kids at heart, Nintendo's "New Super Mario Bros. Wii" ($49.99; rated E) reinvents the classic "side-scroller" -- whereby characters run, jump and battle from the left side of the screen to the right -- by letting up to four gamers play at the same time. Collect coins, don special suits and discover hidden passages as you race to save the kidnapped princess. This Nintendo Wii exclusive is simply one of the year's most fun party games.
Runner-up: Warner Bros. Interactive Entertainment's "Scribblenauts."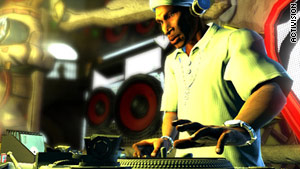 Activision's "DJ Hero."
Best music game
By spinning, scratching and mixing with the included wireless turntable controller, Activision's "DJ Hero" (from $119.99; for Xbox 360, PlayStation 2/3, Nintendo Wii) proved to be the most innovative and immersive music experience of 2009, as you must "mash-up" two separate songs to create more than 100 mixes for the dance floor. Multiplayer modes, guitar and microphone support and unlockable characters all add to the fun in this T-rated game.
Runners-up are MTV Games/EA's "The Beatles: Rock Band" and Activision's "Band Hero."
Best sports game
More so than any other sports games this year, the savvy team at EA Sports responsible for "FIFA Soccer 10" (for Xbox 360, PlayStation 2/3, Nintendo Wii; rated E) has delivered an exceptional soccer simulation featuring myriad game modes (including online leagues for most versions), smart artificial intelligence, enhanced control and a revamped animation engine for ultra-fluid player and ball movement.
Runners-up are EA Sports' "NHL 10" and 2K Sports' "NBA 2K10."
Best role-playing game
Outstanding storytelling, intense action and many dozens of hours of game play are all hallmarks of Bioware's award-winning role-playing games -- and their latest is no exception. "Dragon Age: Origins" (for Xbox 360, PlayStation 3, PC; rated M) is a fascinating fantasy adventure in which your decisions will affect how the single-player tale plays out. Travel through a huge world, use might or magic to defeat foes and unravel an epic story along the way.
Best strategy game
One of the most surprisingly addictive games of the year is PopCap Games' amazing "Plants vs. Zombies" (for PCs; $19.95), a "tower defense"-style strategy game that pits you against slow-moving zombies who are trying to break into your home. Your tactical task is to pick the best plants, flowers and fungi to attack the undead. This T-rated game features many modes to indulge in, dozens of humorous zombie and plant types, and an unlockable music video to reward you for a job well-done.
Best racing game
Get your motor running with Microsoft Game Studios' "Forza Motorsport 3" (rated E), an incredibly detailed racing game for the Xbox 360. Climb behind the wheel of more than 400 dream cars and tackle the more than 100 real-world tracks around the globe. Simulation fans will appreciate the authentic physics and handling of this driving game, while beginners can turn on a number of driving assists to help them win races. You can also log online within the game to show off your modified vehicles or race against others.
Runner-up is Warner Bros. Interactive Entertainment's "DiRT 2."