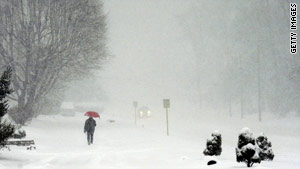 Weather, like the winter storms that struck the Midwest this week, is followed on Twitter in multiple feeds.
STORY HIGHLIGHTS
Each Follow Friday, CNN recommends Twitter feeds inspired by a news topic

This week's topic: the weather, in light of big winter storms and unseasonably cold temperatures

AccuWeather allows Twitter users to sign up for updates on their hometown

Even the New York Yankees tweet about the weather
(CNN) -- This week, winter storms dumped more than 18 inches of snow on parts of the Midwest before swerving toward Canada.
Lower-than-normal temperatures across the nation -- including unseasonable dips below freezing in much of the South -- had people bundling up and nervously eyeing their thermometers.
Of all the news we cover, the weather arguably has the most immediate impact on the largest number of readers and viewers. Whether it's the drama of a hurricane, tornado or earthquake or reports about extreme temperatures, people pay attention.
Here are a few of the weather-related Twitter feeds we're following -- let us know in the comments section who we left out.
@TWCi (The Weather Channel)
When it's time to get weather news, millions of people turn to The Weather Channel. Now, you can do so on Twitter.
The feed is active and sometimes up-to-the-minute, following whatever may be the major weather stories of the day. It re-tweets pertinent information from local media or other Twitter members, while pulling together and sharing other accounts reporting on big weather events.
Followers: More than 20,000
Sample tweet: Buffalo getting hammered by a #lakeeffect snow band at the moment. http://bit.ly/64O32F
@accuweather (various feeds) (AccuWeather.com)
This account varies from most Twitter feeds because it's different for everybody -- AccuWeather offers to tweet you a twice-daily weather forecast for your hometown area.
If you go to theTwitter page on AccuWeather's Web site, you can click on the closest major city (There are 40 U.S. cities and several from around the globe). Clicking one will take you to your town and allow you to follow.
Followers: Various
Sample tweet (from @accuwxatlanta): Weather Now 36F Today: Mostly sunny, breezy and colder High 47F Tonight: Partly cloudy and cold Low 25F
@usoceangov (National Ocean Service)
There's more than just weather here. But as the United States' federal science agency focused on oceans and coasts, the National Oceanic and Atmospheric Administration keeps an eye on hurricanes, tsunamis and other weather events over the ocean.
You'll also find news on their efforts to preserve the nation's coastline and offshore natural resources.
Followers: About 5,500
Sample tweet: What is marine snow? Hint: It isn't the kind of snow you'd make a snowman out of: http://oceanservice.noaa.gov/facts/marinesnow.html.
@wunderground (The Weather Underground)
No, it's not the radical '60s political group, whose member William Ayers made an unwanted return to the political stage last year.
The Underground's Web site has quietly become the go-to destination for weather junkies. From mapping hurricanes to posting weather service announcements lightning fast, their site is a comprehensive one.
Their Twitter feed has been a little spotty -- about one post a day -- but the account's biographical information offers this: "Right now, just testing...but soon good things will happen."
Followers: About 7,400
Sample tweet: Dr. Masters says, "2000s: hottest decade on record; dangerous blizzard pounds Midwest" http://wxug.us/43
@YankeesWeather (Official weather feed of the New York Yankees)
OK, this one won't be any use until next April. And, for a large number of baseball fans, it will become one more thing to hate about a certain front-running Major League franchise. But it was too interesting not to mention.
The New York Yankees have a Twitter feed devoted solely to weather updates for their games. When nasty weather looms, fans planning on heading to Yankee Stadium can check to find out whether a game is on schedule, postponed or canceled.
Maybe other sports franchises will pick up the idea -- if they don't play in domes.
Followers: About 5,200
Sample tweet: The game is rescheduled for Sunday, October 25 at 8:20pm. Gates will open at 5:00pm.