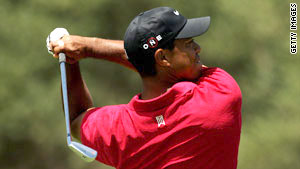 On Follow Friday, CNN.com looks at golf-related Twitter accounts in light of the Tiger Woods story.
STORY HIGHLIGHTS
In Follow Friday feature, CNN.com recommends Twitter feeds on a news topic

This week's topic is golf, in light of the Tiger Woods story

Pro golfer Stewart Cink is easily the PGA Tour's most prolific tweeter

"Golf Girl" talks scores, fashion, Shakira

Editor's note: In this weekly feature, CNN.com highlights five recommended Twitter feeds about a hot topic in the news. Let us know whom we missed in the comments section.
(CNN) -- It's the story that wouldn't go away.
The tale of golf great Tiger Woods started as a story about a seemingly routine traffic accident, then by week's end had escalated into a sometimes lurid look at his private life.
Whether it was because of his status as an almost sure bet to break every record in professional golf, or the human desire to stop and stare at a car crash (this time, literally) readers couldn't get enough.
It's been all over Twitter, too -- with Woods' name remaining a trending topic a week after the wreck. Here are some of the accounts we're taking a look at: (Note: While there are several accounts that claim to be Woods, none appear to have been verified by Twitter as authentic.)
@pgagolf (The Professional Golf Association)
Does anyone following the Woods story actually care about golf? If so, here's the PGA's official Twitter account. The feed is regularly updated and offers links to stories about the most recent results from the tour and tips from the pros.
But there's been Tiger news, too, from official statements on the incident to news of fellow pro Jesper Parnevik's controversial comments in light of the news.
Followers: About 16,800
Sample tweet: #golf TOUR offers statement; supports Woods, family: Below is the PGA TOUR's response to Tiger Woods' statement: http://bit.ly/6k0vFH
@stewartcink (Pro golfer Stewart Cink)
Phonies aside, not many golf pros have their own Twitter accounts. Stewart Cink goes against that trend -- in a big way.
The reigning British Open champion is always tweeting -- from his take on the Georgia-Georgia Tech football game (he's a Tech alumnus) or a review of a Darius Rucker concert to requests for suggestions on a good sushi restaurant, followers get a peek into the pro's life.
Followers: More than 1.1 million
Sample tweet: Just passed @paul_casey as I was leaving the gym. He was wearing the EXACT clothes as me. Guess timing is everything.
@golfchannelnews (Golf Channel)
For a look at golfing news that's not directly from the pro association, the Golf Channel is about as comprehensive as it gets.
If you're looking for ways to lengthen your drive by adjusting your stance, or frank interviews with pros and fans about Woods' troubles, here's where to look.
Followers: Nearly 9,000
Sample tweet: Tiger Woods' former college teammate Notah Begay talks about Tiger's family and personal turmoil http://bit.ly/7eY5Xb #golf #golfchannel
@golfgirl (Blogger, public relations rep Patricia Hannigan)
Where else are you going to find somebody who compares Shakira's dance moves with workouts you can do to become a better golfer?
An irreverent look at golf, with a healthy dose of Woods lately, Hannigan is prone to anything from posting the most recent tournament results to assessing a female pro's on-the-course choice of leggings.
Followers: About 4,500
Sample tweet: Can a woman have extra-marital "transgressions"? Or are they automatically called something worse when it a woman? Just curious.
@tmzonline (Gossip site TMZ)
OK, let's be honest -- a huge chunk of folks paying attention to the Woods story wouldn't know a sand wedge from a sand trap.
If it's celebrity gossip you're after, you're probably already on TMZ's paparazzi-driven site or a regular viewer of its nightly TV show. Its Twitter feed is a good way to get updates in real time.
The updates have been almost all Tiger all the time lately -- with photos of the crash scene and interviews with the players in the case, among other posts.
Followers: About 21,000
Sample tweet: Tiger Crash Witness -- He Was Snoring: Filed under: Celebrity Justice, Tiger Woods Tiger Woods was snoring when.. http://bit.ly/5ot2E8