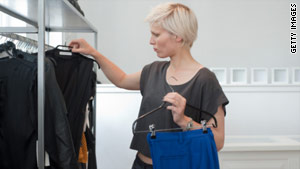 On Follow Friday, CNN profiles Twitter feeds of interest to consumers as the holiday shopping season begins.
STORY HIGHLIGHTS
On Follow Friday, CNN recommends Twitter feeds inspired by a news topic

This week's topic: Consumer news, "Black Friday" and the start of the holiday shopping season

CheapTweet searches for deals on Twitter and pulls them together in one place

Alternative Consumer helps followers make eco-friendly shopping decisions
(CNN) -- OK, so if you're reading this you've probably just finished your yearly, post-Thanksgiving rugby scrum of consumerism.
Or maybe you're getting ready to begin. Or like many, maybe you're cowering in fear at the mere concept of going anywhere near a retail store.
Either way, you probably could use some help.
On this Follow Friday, which doubles as Black Friday, we're looking at Twitter feeds that speak to the secret bargain-hunter within us all. Whether you're looking for a way to round up all the deals on Twitter or tips on how to avoid scams, choose electronics and shop responsibly, we've got you covered.
Let us know who we left out in the Sound Off section below.
@clarkhowardshow (Consumer advocate Clark Howard)
A longtime radio consumer advocate (full disclosure: he has a show on CNN sister network HLN) Howard is a one-shop stop for tips on bargain hunting, saving money and ways to avoid scams and rip-offs. Proud of his personal thriftiness, Howard helps you do the same.
Followers: More than 7,700
Sample tweet: There's only one site for your free credit report -- and it's not those jingles on TV! http://clarkhoward.com/live...
@shopping (ShoppingBlog.com)
Plain and simple, huh? While this feed is the Twitter wing of the blog, it includes shopping tips, retail news and other info for the hard core bargain hunter or anyone interested in what's going on in the world of store sales.
Don't come looking for idle chatter -- there's not any. But with news about products ranging from coffee to robotic hamsters (seriously), the posts here tend to be interesting, informative and helpful.
Followers: About 4,600
Sample tweet: Zhu Zhu hamsters are the holiday season's hottest toy - selling out at major retailers. http://bit.ly/4qm7tN
@AltCon (Alternative Consumer)
Feeling guilty about some of that crass consumerism? Looking for ways to be Earth-conscious while shopping? Alternative Consumer offers environmental news along with tips on recycled and otherwise ecologically friendly products on the market.
"We bring a little more green into the world every day, inspire others to do the same, and have some fun doing it," according to the group's Web site.
Followers: About 2,100
Sample tweet: Lonely in your bathtub? Checkout Mr. Green a cute rubber ducky made from recycled plastic. http://bit.ly/2PtFxj #green #eco #toys
Lots of businesses are pushing their discounted products on Twitter. But if you've never heard of them, how are you supposed to find their deals? CheapTweet aims to answer that by searching tweets and rounding up bargains.
The CheapTweet Web site lists all the deals it finds -- and lets users vote on the ones they think are the best bargains. The Twitter feed also offers highlights. Caveat: CheapTweet does have its own stores and sponsors that get mentioned regularly on the feed, but the feed seems pretty good about pointing out when a business it mentions is a sponsor.
Followers: More than 20,000
Sample tweet: If you get sick of turkey this week, use these Chuck E. Cheese coupons - http://chpt.me/2qr6g5b (Expire 12/2)
@gizmodo (Gadget site Gizmodo)
Gizmodo calls itself "the gadget guide." And ... well ... there you have it.
The Twitter feed is frequently updated and offers links to reviews of all the latest techie items to roll onto the market. Gaming systems, smartphones, high-definition televisions, camcorders -- all were the subject of recent reviews.
Followers: More than 37,000
Sample tweet: Black Friday Anti-Deals: What Not To Buy http://gizmodo.com/5411057/ #profdealzmodo #blackfriday2009