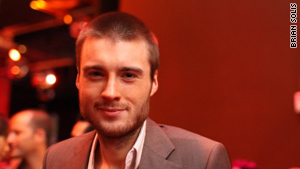 Mashable's Pete Cashmore says news Web sites should not withhold stories from Google.
STORY HIGHLIGHTS
Pete Cashmore: News Corp. should not block Google

An exclusive content deal with Microsoft would go against the "open Web," he says

A deal between Microsoft and News Corp. could lead to others, Cashmore says

Author says such a move would hurt News Corp. and online readers

Editor's note: Pete Cashmore is founder and CEO of Mashable, a popular blog about social media. He is writing a weekly column about social networking and tech for CNN.com.
London, England (CNN) -- If Rupert Murdoch gets his way -- and he's not simply bluffing -- you may one day need to "Bing it" rather than "Google it" to find news stories online.
Murdoch's News Corp., which owns the Wall Street Journal and New York Post, among others, reportedly has discussed with Microsoft a plan to remove its newspaper content from Google's search results. If it's enacted, news consumers would have to head to Microsoft's Bing to find stories from some of the world's biggest news sources.
Other news companies have signaled they may follow suit. They could receive payment from Microsoft for doing so.
The idea is preposterous. Online news distribution has created increased competition and caused greater efficiencies, and Murdoch is determined to lay the blame for this seismic shift on Google, which delivers more than 25 percent of traffic to his WSJ.com property.
The search engine company is made of "content kleptomaniacs", Murdoch roars, and he says Google needs to pay up.
That argument is the digital equivalent of chastising the paperboy for delivering your newspapers door to door -- and then demanding he pay for the privilege.

Video: News Corp, Google in cahoots?
If the Microsoft deal proceeds, it will be a losing proposition for both consumers and News Corp. itself. Only one participant will come out ahead: Microsoft.
Meanwhile, the greatest beneficiaries wouldn't be those cutting the deal -- the thousands of news sites competing with News Corp. would see a boost in their Google rankings.
Consumers lose
The move would almost certainly be harmful to news consumers: Removing content from Google is akin to banning the leading news agent from selling your newspapers.
How many hoops will readers jump through to find News Corp. content rather than that of rival publications? Those consumers made aware of the change will be forced to switch search engines, while the uninformed majority will simply receive a poorer search experience at Google.
The more serious concern is that the move sets a precedent. Microsoft is said to be talking to multiple news organizations about de-indexing their content from Google, while the Denver Post and the Dallas Morning News indicated on Tuesday that they too may pull some of their stories from the search giant in favor of a paid deal with Bing.
If search engines cut deals with content creators to exclude competitors, there will cease to be a single index of the entire Web. Consumers will need to hop from one search engine to another to find the information they desire. WSJ? You need Bing for that. New York Times? Google has the exclusive search rights.
Competitors gain ground
De-indexing pages from Google will mean reduced traffic and thus ad revenues for News Corp. The WSJ alone could face an estimated $15 million decline in revenue.
Microsoft's offer could provide adequate recompense. But the true price is far greater: News Corp.'s exclusion from the online conversation. The deal would convert mass media properties to niche publications, available only to those die-hard fans prepared to venture beyond Google's vast index. News Corp.'s absence would likely create a virtuous circle for Murdoch's competitors.
Those looking to cite news articles online typically turn to Google for their research. Citations will instead go to those News Corp. competitors that rank highly in Google's results. As they draw more links, these sites will rise yet higher in Google's rankings, driving further traffic and links.
Microsoft lands a marketing pitch
News Corp.'s competitors aside, another clear victor is Microsoft. If the software giant can convince multiple news outlets to ink similar deals, the company could claim a marketing coup.
In a recent blog post, Web entrepreneur Jason Calacanis proposed a new Microsoft ad campaign: "Want to search the New York Times, Wall Street Journal, USA Today and 3,894 other newspapers and magazines? Well, then don't go to Google because they don't have them! Go to Bing, home of quality content you can trust!"
Despite a victory for its competitor, reports suggest Google would see little impact on its bottom line.
Bernstein Research analyst Jeffrey Lindsay notes that "the financial impact of News Corp.'s abstention of Google would be small because news is one of the less attractive areas for keyword advertisers."
A closed model for an open Web
News Corp.'s posturing attempts to force the toothpaste back into the tube. In the print era, content and distribution were scarce; to control them was to exert massive influence and gain an insurmountable lead.
In the world of the Web, by contrast, content is abundant and distribution is virtually free. To limit distribution, then, is an attempt to seize back control.
It's an effort that likely will prove futile.
The opinions expressed in this commentary are solely those of Pete Cashmore.