STORY HIGHLIGHTS
A boat made almost entirely out of reclaimed soda bottles will cross the Pacific next year
Inventor David Mayer de Rothschild decided to review the way in which we use plastic
Plastiki will run on solar power and wind turbines and include a urine-to-water recovery system
London, England (CNN) -- Heir and maverick adventurer David Mayer de Rothschild is planning a voyage across the Pacific Ocean on a boat made of reclaimed plastic bottles.
The 31-year-old scion of the famous British banking family plans to set sail from San Francisco early next year on the twenty meter-long catamaran, "Plastiki," which relies solely on trashed soda bottles for buoyancy.
The explorer, one of only several dozen people to have traversed both the Arctic and Antarctic ice caps, hopes his unusual vessel will raise awareness about the problem of waste materials -- particularly plastic.
"The plastic plague" is something that should concern us all, according to Rothschild, who first came up with the idea for "Plastiki" three years ago.
He hopes that if he makes it across the Pacific to Sydney, Australia on his bottle-boat it will make people "rethink the way in which we dispose of waste material."
Rothschild, who founded eco-awareness organization Adventure Ecology in 2005, says the problem of plastic waste polluting the world's oceans is enormous.
"I was astounded to hear that that there are places in our oceans where the ratio between plastic and plankton is six to one," he told CNN.
There are places in our oceans where the ratio between plastic and plankton is six to one
--David Mayer de Rothschild, explorer
"This plastic is ingested by micro-organisms and works itself up the food chain, with a tragic health impact, such as the dying of about 1 million marine birds every year."
"Whereas people can say climate change still has some gray, uncertain areas, the impact of our waste is undeniable. It has a big human fingerprint on it.
"Fifteen billion plastic bags are used every year in the U.S., most of them chucked away within 12 minutes."
Rothschild also later discovered that 90 percent of all waste is plastic and that 60 million plastic bottles are being thrown away every day in the United States alone.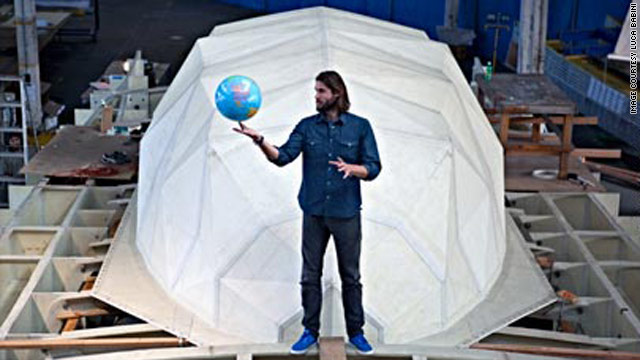 Gallery: Plastiki
"I thought, why not make a boat out of all this waste," said Rothschild.
To turn his unorthodox idea into reality, the environmentalist turned to someone who had never been involved in the build of a boat before -- concept architect Michael Pawlyn.
"I wanted somebody outside the traditional boat world, with no preconceived ideas or limitations," he said.
The inspiration for "Plastiki" came from "Kon-Tiki," a raft composed of balsa tree trunks used by Norwegian explorer Thor Heyerdahl to cross the Pacific Ocean in 1947.
As well as recycling plastic bottles for buoyancy, "Plastiki" utilizes a special kind of self-reinforcing plastic called srPET, which is free from secondary contaminants like glass or carbon, making it infinitely recyclable.
The boat's other green credentials include solar power, wind turbines, and even a pair of bicycles that can be pedalled by the crew, to avoid running out of energy.
It will also include a urine-to-water recovery system and a toilet utilizing evaporative technology for weight reduction.
The rotating six-man crew -- including scientists, writers and artists -- will eat a diet of fresh fish and fruits and vegetables plucked off a vertical garden on the boat's mast.
"Plastiki" is currently being built in San Francisco and will be put in the water at the beginning of next month.
Rothschild will spend two to three months on the bottle-boat, which will be skippered by 30-year-old British sailor Jo Royle.
Royal told CNN she is completely confident in Plastiki's ability to make it across the Pacific. "We cannot look at other boats for reference, but we wouldn't leave unless we're completely confident we'll make it."
"Even if 'Plastiki' gets damaged or does not make it, the message will still be there," Rothschild told CNN. "The idea is to put no kind of pollution back into the atmosphere, or into our oceans.
"In the case of Plastiki, everything on the boat will be composted and recycled. Even parts of the vessel may be up-cycled, certainly the bottles."
Plastiki is expected to stop in Hawaii, Tuvalu and Fiji on its way to Sydney, a trip estimated to take more than 100 days, or approximately 16,000 km (10,000 miles.)
"Sailing from point A to point B is very cool and raises awareness, but we want to showcase real-world solutions and use the material we used on the boat, such as srPET, for other applications," the 31-year-old explained.
"The ultimate goal of the Plastiki voyage is not just to encourage people to embrace clean, renewable energy but also to see consumer waste as a potential resource. That's what this is all about."
"We need to better understand plastic and realize that while the problem is big, the solutions are all there. They are just not being applied."