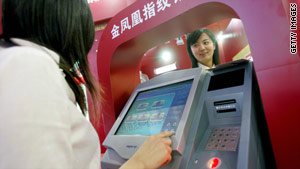 Are you being served? ATMs are multi-fuction machines for many across the world.
STORY HIGHLIGHTS
ATMs developing into multi-purpose machines as electronic transactions grow

While cash is still king, a physical transaction with a bank is essential

Social value to extending ATM services, it may help narrow the "digital divide
(CNN) -- When reading this article, you will most likely fall into one of two groups.
Either you are surprised to hear that bank ATMs are used as multi function kiosks all over the world, where customers can book train tickets, top up their cell phone credit and pay bills; or you are someone for whom these services are an everyday reality already.
This split arises because, when it comes to ATM use the world is divided -- and not just along the usual lines between rich and poor.
While banks in Hong Kong and some countries, such as Spain, Portugal and Russia, offer a wealth of services, banks in the UK and U.S. typically just provide bank account services.
Certainly the age of the network can be a barrier, with countries that have recently installed ATMs -- for example India -- much better placed to extend services than those with older systems, like the U.S.
But social attitudes also seem to play a part. In the UK, where ATMs are universally referred to as "cash machines", people seem unwilling to change their habits and prefer online banking.
"In the UK people now rely hugely on the Internet when it comes to running their finances - even when it comes to things like checking their balance, they still prefer to go online than turn to an ATM," Toby Clark Head of Finance Intelligence, Mintel Group, told CNN.
"I think that one of the biggest factors behind a lack of more advanced services in the UK is a lack of demand - consumers just aren't particularly interested. Cash machines are largely for cash, sometimes for balance enquiries, and not much else."
Financial institutions are relying on multi-service ATMs to bring banking and government services to individuals not easily reached otherwise
--Sharon Dickie
Early adopters getting more
It may be that the U.S. and UK are more conservative simply because they have had access to ATMs for longer than other countries where rapid change may have made consumers more willing to be early adopters.
"In Asia overall economic development has been rather sudden, and the technology that provides consumers with banking services has leapfrogged more established economies, like the U.S. and UK," Tracy Kitten editor of ATMmarketplace.com told CNN.
"Consumers in these developing markets are accustomed to self-service, and advanced functions on self-service devices... because brick and mortar branches are not so commonplace.
"[But] I do expect [advanced ATM use] to increase dramatically over the next five years, especially in Europe and developing parts of the world, such as in countries in Asia and Africa."
ATM manufacturers agree.
"Based on our long experience in the ATM space, we believe the UK and other regions will eventually catch up, it is just a matter of time," Sharon Dickie, vice president of marketing, NCR Financial Services told CNN.
"Based on [customer] feedback, we have a strong reason to believe that ATM payments and services is a growing trend.
"Using the ATM will open the door to serve a bigger consumer-base, as both account holder and non-account holder can use the service."
It's certainly in banks' interests to grow the number of transactions taking place at ATMs.
For example, recent improvements in operating system software, communications infrastructure and the adoption of smart cards in the UK have been expensive and banks need to recoup these costs. But NCR says that broadening services is about more than just money.
"Certainly, banks will charge fees for some of these services," says Dickie. "But it's also a customer service value proposition - giving more customers more reasons to not only transact with your bank, but to build a deeper relationship, is very valuable."
Bridging the Digital Divide
There could even be a social value to extending ATM services, and it may help narrow the "Digital Divide".
"Government agencies and financial institutions are relying on multi-service ATMs as solutions for financial inclusion to bring banking services and other government services to individuals not easily reached otherwise," says Dickie. "Brazil, in particular, is a leader in this area."
Ultimately, it seems that the future of access to consumer financial services will not be a battle between ATMs and mobile devices, more a close co-operation, with customers in widely differing contexts still using both technologies in tandem.
"Mobile devices are now in everyone's hands," says Dickie.
"In many countries where the number of unbanked or under-banked is big, such as India, mobiles are used as an alternative method to access banking services. While in more advanced countries, mobiles are used as an additional banking channel due to the convenience if offers.
"In both scenarios, we see the ATM playing an important part along side with the mobile, in delivering financial transactions.
"Let me give you an example, in some countries in Africa the mobile is used to transfer money between people who don't have a bank account. [But] in order get the money, the receiver has to visit an agent or alternatively use ATM to dispense the money."
That it seems, is the bottom line: while cash is still king, a physical transaction with a bank is essential. But for everything else, who knows?
"Inevitably, some new kind of service that the market cannot yet predict will emerge," says Kitten. "So, it's difficult to forecast out beyond five years."