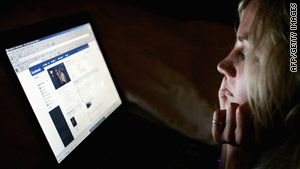 A user looks at Facebook, which is accused of failing to do enough to combat bullying.
STORY HIGHLIGHTS
Senior UK police officer responsible for preventing bullying says social networking sites failing to combat abuse
Jim Gamble praised initiative by Bebo, whereby children who fear they are at risk can press panic button
But Facebook said it believed adopting button would have no effect on reducing abuse
London, England (CNN) -- The world's biggest social networking site has brushed off criticism by a senior UK police officer responsible for preventing online bullying that it is failing to combat abuse.
Jim Gamble, head of the Child Exploitation and Online Protection (Ceop) Center, said Facebook and MySpace, which between them have more than 500 million users, could work harder to stamp out bullying.
The initiative came as UK charity Beatbullying highlighted Bebo, owned by AOL, and Microsoft's instant messaging service as hotspots for bullying.
In a poll of 2,094 young people across England conducted by the charity, 30 percent of 11 to 16-year-olds who had been "cyberbullied" had been targeted on Bebo.
Earlier this year 18-year-old Keeley Houghton became the first person in Britain to be jailed for Internet bullying.
Houghton spent six weeks in the young offenders' wing of Eastwood Park prison in Gloucestershire, western England, after posting a threatening message about a girl on her own Facebook profile.
Part of the message read: "Keeley is going to murder the bitch," according to the Press Association.
In response to fears that online bullying is on the rise, Gamble praised an initiative adopted by Bebo, whereby children who fear they are at risk can press a panic button. This allows users to report online abuse, bullying and illegal activity.
Don't disclose too many details about your identity in your online profile

If people ask to be your friend or buddy, remember that no matter how much they tell you, they are still strangers and they might not be telling you the truth

Don't upload anything that might embarass you at a later date

Don't get into arguments online, this is called flaming and it can turn nasty

Don't upload pictures or video of anyone without their permission
But Facebook said Wednesday it believed adopting the button would have no effect on reducing abuse and it had a number of measures in place already on bullying.
"The safety of Facebook users is our top priority," said a Facebook spokesperson. "We have a robust reporting system in place and continue to invest heavily in creating the most robust reporting system to support our 300million users.
"We work closely with police forces in the UK and around the world and have trained staff on two continents giving 24 hour support in 70 languages. We are in constant dialogue with Ceop look forward to learning from Bebo's experience of using the Ceop button."
On Ceop's Web site, Gamble said there was "no legitimate reason" for refusing to put the anti-bullying button on a Web site.
He said: "I do not want my criticism to be taken as a swipe at the online industry. The vast majority of players are doing a good job and doing their best to make the environment safe.
"This is aimed specifically at social networking sites. They are creating a public space that attracts young people, children and adults, so they can make money through advertising.
"We applaud that but do not forget while you do that there is a responsibility, a duty of care, to the young and the vulnerable."
Gamble said some sites claimed technical issues block the button while others suggest companies do not want to lose lucrative advertising space. He added: "It is tiny and does not take up any significant real estate. The bottom line is there is no legitimate reason for not taking it and placing it on a site."