Dell unveils Android-based Mini 3 smartphone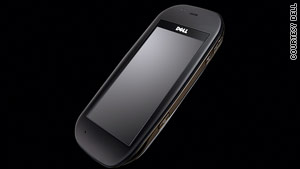 Dell announced the Mini 3 smartphone on Friday.
STORY HIGHLIGHTS
Dell enters the cell-phone market with the Android-based Mini 3

First two carriers to sell the Mini 3 will be China Mobile and Brazil's Claro

No specs or prices announced by Dell on Friday

The device will join Droid and Droid Eris as recent smart phone debuts
(CNET) -- Dell said Friday that it's ready to enter the smartphone business with the Android-based Mini 3.
Long rumored to have such a device in the works, Dell said that the first two carriers to sell the Mini 3 will be China Mobile and Brazil's Claro.
The Mini 3 will apparently use OPhone, China Mobile's customized version of Google's Android operating system. "We are excited for Dell to be among the first manufacturers to introduce new technology based on the OPhone platform," an unnamed China Mobile representative said in Dell's press release.
We've got a call out to Dell to seek clarification on the operating system software.
Dell did not provide technical specifications or pricing information for the phone, saying those would be revealed when the device arrives in stores--probably late November for China Mobile and by year's end for Claro. It also did not say when the phone would arrive in the U.S. or other markets.
Michael Tatelman, a Dell sales and marketing executive, told the Associated Press that the phone has a 3.5-inch high-definition touch screen. The Mini 3 sold in China won't have Wi-Fi at the start, but Tatelman said that would come later.
Similarly, Apple's iPhone just made its official debut in China sans Wi-Fi.
China Mobile has more than 500 million customers, and Claro serves more than 42 million people in Brazil as part of the America Movil network, Dell said.
Dell did tout its "existing agreements with other leading global telecom providers," including Vodafone in Europe; AT&T and Verizon in the U.S.; M1 and Starhub in Singapore; and Maxis in Malaysia.
The Texas-based PC maker also played up the Internet connectivity angle of small mobile gadgetry.
"Our entry into the smartphone category is a logical extension of Dell's consumer product evolution over the past two years," Ron Garriques, president of the Dell Global Consumer Group, said in a statement. "We are developing smaller and smarter mobile products that enable our customers to take their Internet experience out of the home and do the things they want to do whenever and wherever they want."
But does the world need a smartphone from Dell? The device will have plenty of company: Android phones have begun arriving on the market in larger numbers in recent months.
Most notably, U.S. carrier Verizon Wireless last week began selling the much-hyped Droid, made by Motorola, and the more modest Droid Eris, made by HTC.
© 2010 CBS Interactive Inc. All rights reserved. CNET, CNET.com and the CNET logo are registered trademarks of CBS Interactive Inc. Used by permission.