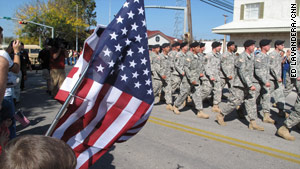 Soldiers march in a Veterans Day parade in Killeen, Texas, near Fort Hood.
STORY HIGHLIGHTS
On Follow Friday, CNN recommends Twitter feeds about a news topic

This week's topic: The military, in light of Veterans Day, Afghanistan and Fort Hood

Joint Chiefs Chairman Adm. John Mullen has his own account

Defense department science team combines military, techie news
Editor's note: In this weekly feature, CNN.com recommends Twitter feeds about a hot topic in the news. Let us know who we missed in the comments section.
(CNN) -- With Veterans Day, the continuing investigation into the shootings at Fort Hood and talks continuing on future U.S. troop numbers in Afghanistan, the military has been all over the news this week.
Twitter users can find thousands of military-related feeds -- from official accounts at the Pentagon and all the U.S. military's branches to tweets from military wives and combat historians.
Here is just a small sampling of military-related tweeting that we've found:
@thejointstaff (Joint Chiefs of Staff Chairman Adm. Mike Mullen)
This feed is not updated super-frequently. But, by all appearances, it's actually written by Adm. Mullen, not a lowly staff member.
It's full of general posts honoring the military, but sprinkled with more personal notes and reflections on his official activities.
Followers: More than 8,600
Sample tweet: Terrific meetings with military leaders in South Korea. Eye to eye on the difficult challenges here, but working toward viable solutions.
@WWIIToday (The National World War II Museum)
For the history buffs among us, the New Orleans, Louisiana, museum's feed is chock full of little-known facts and "this day in history" posts -- as well as links to news articles about the war.
Followers: More than 10,700
Sample tweet: "The war wasn't fought in B&W. Soldiers bled in red." Two new TV series use unseen color film from WWII: http://ow.ly/B4cq
@milblogging (Jean-Paul Borda)
Borda is the founder of www.milblogging.com, a database of nearly 2,500 military blogs from 43 countries. Before starting the site, Borda blogged from Afghanistan when he was stationed there with the Army National Guard. The Twitter feed includes tidbits from the Web site, links to military-related news and personal observations.
Followers: More than 61,000
Sample tweet: My son's birthday is Veterans Day, we're gonna head to Applebee's and take advantage of their Veterans Day promotion.
@USForA (U.S. Forces-Afghanistan)
This is an official Twitter feed from the United States military forces operating in Afghanistan. There are some links to (mostly positive) articles about military operations there. But the real value is getting releases on breaking news. They're obviously filtered through military public relations, but provide an up-to-the-minute look at news from the conflict.
Followers: More than 5,700
Sample tweet: Operational Update Nov 10 Afghan National Police-ISAF Seize 250 Tons of Suspected Bomb Making Material in Kandaharhttp://tinyurl.com/yboqrha
@taps4america (Tragedy Assistance Program for Survivors)
TAPS is a nonprofit group dedicated to assisting and comforting people who have lost a family member or other loved one who was serving in the military. The group offers support programs, counseling and crisis intervention, among other services, for those families.
On its Twitter account, the group honors the fallen as well as offering information about its programs -- which its Web site says have served more than 25,000 people.
Followers: Nearly 900
Sample tweet: ...At the rustling of the leaves and in the beauty of autumn, We remember them....As long as we live, they too... http://bit.ly/3oa7Pm
@ArmedwScience (U.S. Defense Department science team)
These are entertaining updates from the place where military service and science-geekery meet. "Armed with Science" is a weekly science podcast from the defense department.
Instead of the sometimes dry reading of other official military feeds, this one takes a lighter tone. Subjects range from the military's Joint Typhoon Warning Center to a look at new vehicle armor.
Followers: About 3,500
Sample tweet: I wish my Honda had Army's new damage-sensing vehicle armor. Listen http://ow.ly/zR9T or read the transcript http://ow.ly/zR7O #followfriday