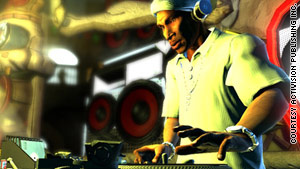 "DJ Hero" is the latest from the creators of "Guitar Hero."
STORY HIGHLIGHTS
Lots of fall games a blessing and a curse for video game fans

Reviewer: "DJ Hero" is a fun but tricky rhythm game

"Forza Motorsport 3" is the finest racing game of the year

Ratchet and Clank are back to finish the "Future" story arc
(Gannett News Service) -- For video gamers, the fall season is both a blessing and a curse. While many high-quality titles debut around this time each year, there are only so many dollars to go around.
If you're itching for a new game or are starting to buy presents for those on your gift list (or a bit of both), the following is a look at three worthy considerations -- each catering to a different audience.
"DJ Hero"
(Activision; $119.99; for Xbox 360, Nintendo Wii and PlayStation 2-3; rated "Teen"; djhero.com; 3.5 out of 4 stars)
Rock music, move over. It's now time to dance.
From the folks who brought us "Guitar Hero" comes "DJ Hero," a fun but tricky rhythm game that challenges you to "mash up" two songs into one head-bobbing mix.
With the aid of a wireless turntable-shaped peripheral (included), you must scratch, cross-fade and press multicolored buttons according to what's shown on the screen. Instead of flying down a guitar neck in previous games, your eyes (and ears) are on a spinning record.
Interestingly, the nearly 100 mixes often pair up two very different tracks -- such as Gwen Stefani's "Hollaback Girl" versus Rick James's "Give It To Me" or Queen's "Another One Bites The Dust" versus Daft Punk's "Da Funk." The result is a unique sound that should get any holiday house party grooving.
A few songs also let you add a "Guitar Hero" or "Rock Band" controller, plus you can connect a microphone to sing on top of the music at anytime -- although there's no way to save and play back your creations.
New songs can also be downloaded from the Internet for a couple of bucks each.
"Forza Motorsport 3"
(Microsoft Game Studios; $59.99; for Xbox 360; rated "Everyone;" forzamotorsport.net; 4 out of 4 stars)
Easily the finest racing game of the year, this Xbox 360 exclusive lets you slip behind the wheel of 400 dream machines -- be it an American muscle car, sleek European sports coupe or high-tech Asian import -- and tackle more than 100 real-world tracks and road courses.
While the game offers truly photorealistic graphics (featuring 10 times the car detail of its 2007 predecessor) and with many more camera angles to choose from (such as a "cockpit" view), the savvy UK developers also made the cars feel like the real deal thanks to authentic physics and handling.
That said, those who need driving assists can turn them on with the press of a button. Plus, if you really screw up on a turn you can hit the "back" button to rewind the race a few seconds.
Xbox Live subscribers can take advantage of eight-player matches and tournaments over the Internet, along with downloadable extras and the ability to share custom paint jobs with other racers.
"Ratchet & Clank Future: A Crack in Time"
(Sony Computer Entertainment America; $59.99; for PlayStation 3; rated "Everyone 10+"; insomniacgames.com; 3 out of 4 stars)
Concluding the "Future" story arc, "A Crack in Time" once again stars Ratchet, a wisecracking and pointy-eared alien, as he tries to take down the diabolical Dr. Nefarious, whose henchmen have kidnapped Ratchet's faithful robotic companion, Clank.
Along with new gadgets -- such as high-speed hover boots and a belching alien you hold like a gun -- this cartoon sequel adds more puzzle elements to the third-person combat, including the ability for Clank to manipulate time with the aid of dimensional pods that "record" his actions.
Fans of this series can expect many returning elements -- plenty of planets to visit, collectible gear and fun "platforming" sections -- but with even better graphics (and still no noticeable load times).
It's too bad there isn't a multiplayer component and some of the side missions can get repetitive. But this third and final "Future" game proves to be a fun and wild ride nonetheless.