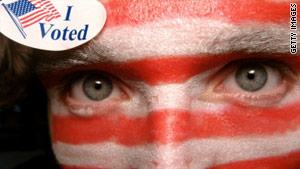 Twitter has become a popular tool for politicians and their supporters to sound off on hot-button issues.
STORY HIGHLIGHTS
On Follow Friday, CNN recommends Twitter feeds on a news topic

This week's topic: Politics, in light of Tuesday's off-year elections

Rasmussen posts quick poll numbers, Daily Dish offers independent, unique views

At 1.3 million, Schwarzenegger is the most followed pol who's never run for president
Editor's note: In this new weekly feature, CNN.com highlights five recommended Twitter feeds about a hot topic in the news. Let us know who we missed in the comments section.
(CNN) -- With widely watched off-year elections in New York, New Jersey and Virginia grabbing the nation's attention, politics was back in the news in a big way this week.
At the same time, Twitter has become a trendy new tool for politicians hoping to get their message to the public as quickly as possible.
Remember President Obama's first address to a joint session of Congress? For some less-than-attentive members, tweeting is the new napping.
You can find any number of politicians, political parties, advocacy groups, journalists and pundits on Twitter.
We've picked out five, while trying to avoid overly partisan feeds in favor of a few devoted to sharing a broader understanding of the entire political spectrum or approaching politics in a unique way. (It would, of course, be shameless to plug CNN's @polticalticker Twitter feed, with its 40,000 followers, here. So don't think we even considered it.)
@RasmussenPoll (Scott Rasmussen, founder, Rasmussen Report)
"If it's in the news, it's in our polls," boasts the Rasmussen Report Web site. We (thankfully) haven't noticed any polling numbers on Jon & Kate or Miss California, but if it's politics you're after, you can do a lot worse than links to fresh data from one of the nation's best-known pollsters.
The feed is frequently updated, giving all those politicians who claim they don't look at polls the chance to read up quickly before going back to pretending to study health care legislation.
Followers: More than 16,000
Sample tweet: Most Democrats expect their party to gain seats in 2010 ... Republicans and unaffiliateds hold opposite view...http://tinyurl.com/RR0779
@dailydish (Andrew Sullivan, The Daily Dish blogger)
In a political landscape full of commentators happy to spout one party line or another, Sullivan is complex and hard to pigeonhole. One of the first high-profile pundits to blog, Sullivan is conservative and gay, a Brit who covers American politics, a flat-tax advocate and 2000 George Bush backer who threw his support reluctantly to John Kerry in 2004 and more avidly behind President Obama after souring on the Bush administration's spending policies and handling of the war in Iraq -- a war that Sullivan supported.
He frequently posts personal and political observations and, most often, links to his blog updates, although he hasn't mastered the art of keeping tweets under 140 characters, leading to lots of ... ellipses.
Followers: 8,782
Sample tweet: Not Just Obama: DiA notices that the South dislikes more than the President. http://bit.ly/4pQQxY
@LarrySabato (Larry Sabato, University of Virginia political scientist)
Called "probably the most quoted college professor in the land" by the Wall Street Journal, Sabato doesn't end up in the papers or on the Sunday talk shows just because he's willing -- he also knows his stuff.
His track record for political predictions has been rock solid, and his Twitter feed is filled with succinct, informative tidbits, most recently hyper-focusing on the Virginia governor's race (in which he correctly predicted a solid GOP win).
Followers: About 3,300
Sample tweet: Dems have a giant problem if they can't re-motivate minority voters quickly. Crystal Ball numbers show miserable black turnout in VA on 11/3
@Schwarzenegger (California Gov. Arnold Schwarzenegger)
OK, we tried to avoid elected officials altogether. But according to the Web site We Follow, the bodybuilder-turned-actor-turned-politician has more followers on Twitter than any current or recent elected official not named Obama, Gore or McCain.
Plus, we figure the Governator's politics are just moderate enough (translation: he's made members of both major parties mad) that nobody can be too annoyed with us for throwing him in.
Followers: More than 1.3 million
Sample tweet: Great news for American cycling fans and CA. The 2010 Amgen Tour of California will be better than ever. @lancearmstrong will you join us?
@Roland_Hedley ("Doonesbury" character Roland Hedley)
Finally, here's a departure if all the so-called "real people" are too much for you. For more than three decades, Hedley has been a fictional journalist in Gary Trudeau's "Doonesbury" comic.
Keeping up with the times, he's now updating the Twitterverse with his opinionated, self-serving and sometimes factually questionable posts. They're not all about politics, but Hedley gets a pass because to our knowledge, Hedley's the only journalist to have reported live from inside then-President Ronald Reagan's brain.
Followers: More than 14,000
Sample tweet: Huckabee back on death panels. Fascinating what flies. As experiment, may do story tonite on unicorns, let viewers decide.