Apps of the week: Games for kids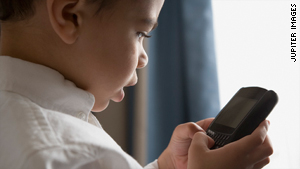 Games on a smartphone -- your phone, not your young child's -- can help keep kids from being bored.
STORY HIGHLIGHTS
These smartphone apps may keep your kids busy on long car rides

Zebra Paint lets kids color pictures on the phone's screen

Super Memory Match teaches kids to remember and match tiles of animals

Photo Puzzle lets you create a digital jigsaw puzzle from a personal photograph

(CNN) -- Your kids may be too young for their own cell phones.
But that doesn't mean they can't play with yours.
Developers are making coloring apps, puzzle games and other smartphone applications that will keep kids busy on long car rides or during downtime in the doctor's waiting room.
Here are a few recent favorites:
Zebra Paint (free for Android phones)
You won't be able to get this coloring book-like app out of the hands of your kids, who may plead, "Can I color just one more picture, please?" The drawings have thick outlines so it's impossible to color outside the lines. You pick colors with your fingers and select parts of the picture to paint. Pictures range from hot-air balloons to Earth.
Bonus: You can share the pictures (via e-mail or messaging) and even use them as contact icons on your phone. Think of it as posting children's colorful pictures on an e-fridge of sorts. Plus they get a kick out of seeing their artwork on your smartphone.
Downside: The number of colors is limited. Because more effort is required to change the color palette -- which you can do -- it's easy to get lazy and just use the colors offered. Also, bigger fingers can make coloring smaller parts of pictures difficult. For example, you can color the entire Earth blue if you're not careful.
Super Memory Match ($0.99 for iPhone; free for Android phones)
The sounds of this memory game are worth it alone. If you're looking for an educational app, this "Concentration"-like game teaches kids to remember which tile last hid a particular animal. Each animal makes a unique noise, from a leaf-chomping giraffe to a squeaky mouse.
Bonus: There are a handful of options in this game. You can set the difficulty level -- a six-tile option or 12-tile option -- depending on the age of the player. One or two players can play, and you can choose tiles of beautifully illustrated animals or actual photographs.
Downside: The noise makes this app, so if kids can't play with the sound on, it's not nearly as fun.
Photo Puzzle ($0.99 for iPhone; free for Android phones)
Puzzles are more enjoyable when the subject is personal. With this app, kids can use photos already on your phone as puzzles. Rearrange Uncle Fred! Photos of people may look like Mr. Potato Head at first, with mouths on top of heads and eyes on chins. Kids can choose from easy or more difficult levels of play.
Bonus: Kids can play at their own speed and the game lets them skip over pictures that aren't really puzzle-worthy, like clouds. Yawn.
Downside: The layout encourages you to drag pieces of the puzzle around with your finger -- but you can't do that. Instead, the game requires tapping a puzzle piece to move it, then tapping another block to place the piece down. Also, there's no animated reward when you finish a puzzle, so no positive reinforcement.