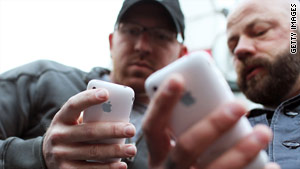 Apps can turn mobile phones into e-readers.
STORY HIGHLIGHTS
This week's app feature takes a look at phone e-readers
Amazon's Kindle app for the iPhone is an industry standard
Not to be outdone, Barnes & Noble has a clean e-reader app, too
Mobipocket is a good choice for Palm and BlackBerry owners
Editor's note: This is CNN.com's App Wednesday feature. Each week, we feature one or a few mobile phone apps that have caught our attention. Chime in with tips, or tell us what we missed.
(CNN) -- The e-reader market is diversifying, and people who want devices to display digital books now have several choices: Amazon's Kindle, Sony's Reader and, as of last week, Barnes & Noble's Nook.
Throw into the mix upcoming tablet computers, and netbooks that perform double-duty as Web browsers and e-readers, and things start to get confusing.
But if you own a smartphone, you may not realize that you already have an e-reader in your pocket. Several apps, produced primarily by book sellers but also by some start-ups, bring digital book files directly to that mini-computer you tote around with you everywhere.
Here's a look at a few of the most popular and interesting book apps, for the iPhone, Android, Windows Mobile phones, Palm Pre and BlackBerry.
Amazon's Kindle app: Free on iPhone
Fans of Amazon's popular book-selling Web site can get access to their favorite material through this free app. The books will cost you, though, usually in the $10 range for popular fiction.
It's also worth noting that some short stories and long-form online writings are available as e-books on the Kindle app, even if they haven't been put to paper.
Some users complain of eye strain after spending time staring at page after page of text on a tiny phone screen, but the Kindle app does have some features to compensate. Readers can increase and decrease the text size and switch to white text with a black background for low-light reading.
I find the Kindle app useful in short bursts of reading, such as on the subway. The app saves your spot in the book so you can return to it later without hassle, but flipping through page after phone-sized page can be as tiring on your hands as a thumb war.
Barnes & Noble's app: Free on iPhone and BlackBerry
The popular real-world and online book seller's reading app is similar to Amazon's, but its page-turning feature has more of a papery feel than Amazon's. B&N's app has a scroll function, which lets readers scan down through long columns of text instead of just changing pages horizontally. That feature sticks sometimes, though, and is somewhat difficult to use.
Like the Kindle app, the B&N app inverts the text and background colors for night reading. The main difference is the format of e-books you access. Amazon uses rights-protected formats that you can only access on the Kindle or on a Kindle app. B&N doesn't use completely open formats, but they're not as locked-down as Amazon's. That said, some bloggers are frustrated that it's not easy to pull in non-B&N content onto the app.
Mobipocket: Free on Windows Mobile devices, BlackBerry and Palm
Mobipocket makes up for the fact that some of the big-name e-reader apps don't appear on Windows devices or the BlackBerry. The app has a visual bookshelf layout and lots of customizable features, from the font you're reading to linked-in dictionaries and highlighting tools.
Stanza: Free on iPhone
Stanza, which is available only for the iPhone, has an advantage in that it can pull in e-books from a bunch of sources, not just one bookseller. It also has dozens of features, allowing users to make their books look like crusty, yellow-paged classics or like blue-and-white computer files. The 3-D page-turning feature will comfort readers who are new to digital reading.