By John D. Sutter
CNN





This is CNN.com's App Wednesday feature. Each week, we feature one or a few mobile phone apps that have caught our attention. Feel free to chime in with tips on how to use these apps, or tell us what we missed.
(CNN) -- Smartphone cameras are pretty basic. Often they won't zoom. They don't have aperture settings. Usually there's no flash.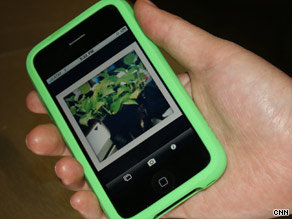 ShakeItPhoto can turn your iPhone pics into retro-looking, Polaroid-like snapshots.
But thanks to a growing slate of photography apps, simple mobile-phone photos can be transformed into interesting pieces of art. They're the new Polaroids -- far from high-end but offering a sort of irreverent charm.
Here are three fun photo apps to help you transform dull iPhone or Android photos into something your friends will want to check out.
ShakeItPhoto: $0.99, iPhone
Miss the days when you could "shake it like a Polaroid picture?" Well they're back with the ShakeItPhoto app for the iPhone.
On ShakeIt, the photos you snap appear to slide onto the screen of your camera without having been developed. Then -- just like in the days of Polaroid -- you shake your phone to develop the images.
Bonus: The apps color scheme gives a nice '70s tint to your photos.
Extra bonus: If you get sick of shaking your camera, or you start developing carpal tunnel, then you can set the app to develop your images more quickly.
Bummer: It only has one color filter, so you can't make adjustments. But that's how real Polaroids work, so deal with it.
Photoshop.com Mobile: Free, iPhone
Photoshop debuted this free app at the beginning of October, and it has rocketed to the top of Apple's list of free apps. It helps you crop and color-correct your photos on the go and then uploads them to Flickr, the photo-sharing site.
Bonus: The app has fine-grained controls for adjusting tint or saturation when you're out and about. It also offers a few custom filters, including "vignette blur," "pop" and "warm vintage," that provide a nice alternative if you're in a hurry.
Bummer: The crop and rotate functions -- two of the app's most useful attributes -- are tricky to use. And some professional users complain that many of Photoshop's features, such as levels adjustments, aren't available.
Green Screen Lite: Free, iPhone
Never been to the Kremlin? No problem. You can fake it! With this app, you can black out the backgrounds on your photos and paste yourself in front of famous landmarks instead.
Bonus: It's free. The free version comes with a limited number of backgrounds. You can use photos from your library as green screens if you buy the paid version, which costs $2.99.
Bummer: It's clunky. There's an auto feature that tries to read your photos and put the people in them on new backgrounds. But it doesn't always work, which means you have to block out the background yourself using a few tools the app provides. It's a cool idea, but the execution is somewhat lacking.

E-mail to a friend

All About Smart Phones