By Breeanna Hare
CNN





(CNN) -- If you cross paths with Lorenzo Geraci and want to exchange contact information with him, he's only giving you two options -- and neither involves a business card.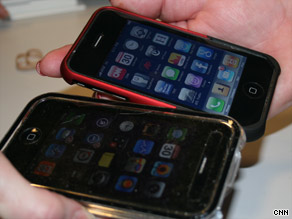 Applications such as Bump allow users to exchange contact information by touching iPhones.
For personal contacts, Geraci uses Facebook. For business, he prefers LinkedIn, the professional networking site. Geraci started his "no business card" experiment in December, and while he thinks he made the right decision, his policy does present its challenges.
"Not everybody likes it, that's for sure," said the Boston, Massachusetts-area consulting CFO for Internet startups. "Not using business cards will negatively affect the quantity of your contacts -- there are those who come up to you and want to contact you but aren't Internet savvy -- but it doesn't affect the quality."
Welcome to the world of professional networking, 2.0.
While exchanging business cards remains standard protocol among many executives and nobody believes paper cards will become extinct anytime soon, more professionals are also opting for Web-based services or "digital business cards."
If you've ever attended a conference and searched your pocket or shoulder bag in vain for an inscribed paper rectangle, you can see the value in sharing contact information online or via cell phones, where it's almost always easily accessible.
"In reality, people get a [business] card and don't do anything with them," said Adam Ostrow, editor-in-chief of Mashable, a blog devoted to social media. "There's a big opportunity to change that behavior and make networking more productive with technology."
There are now more than 20 products and services that allow people to exchange versions of electronic business cards. For now, however, Ostrow believes old-fashioned cards are still the best way to do business.
"What's come out so far requires the users to be on the same platform," he said. "At this point it's hard to see the business card dying until something [standard] comes out to replace it."
John Saddington, an Atlanta, Georgia, social computing consultant, is trying a compromise. His business card contains only a Google search box with his name in it; people who search for him on Google are led to his Web site, where they can contact him through e-mail or his LinkedIn profile.
"It's just as important to be effective in the real world as it is on the online world," Saddington said. "The first thing that happens when I hand it to people is that they laugh. They may assume that I'm arrogant, but if they know me at all, they know that this is my world and nothing is more tech-heavy than Google."
That isn't to say having a digital business card doesn't have clear advantages, like making it easier to connect after an event, Ostrow pointed out.Curious about different ways to text, e-mail, or wirelessly exchange your business card? Here are eight applications that may work for you:
For the recent grad
Don't hit the job market without plenty of personalized cards. But if you want to show off your tech-savvy, the free Web site DubMeNow lets you create a digital edition that's always at the ready. You can share your mobile card via text or e-mail, and your contact information is saved into the person's address book and automatically updated whenever you make a change. DubMeNow also can locate where and when you met your contact, in case you have a memory lapse.
For the budding entrepreneur
The Web site BusinessCard2 lets you create an online card with a distinctly professional spin. The card's skin is sleek and has three tabs to help potential customers get to know you and your business. There's an info tab where you can list your experience and another tab for listing your social networks. BusinessCard2 also can embed your business card link in e-mail messages or on your blog.
For the frequent conference attendee
You, professional person with a stack of other people's business cards you never use, are the reason digital business cards exist in the first place. Instead of logging in all your new contacts' info yourself, use CloudContacts. Send them your paper business cards, and CloudContacts will do the dirty input work for you. Then all you have to do is export the data to Microsoft Outlook, Facebook or another digital address book, and you're set.
For the technophobe
Saddington came up with this customizable, easy-to-use and free Wordpress theme program to help people manage their online identity. Download the program, upload a picture that screams "talented and capable," add career-friendly social network profiles (and all the ways a person can reach you) and boom -- you've got your very own landing page.
For the tweet-minded
If you're a fan of Twitter you know anything is possible in 140 characters or less, including sharing your business card. With TwtBizCard, you can link your Twitter profile with a free personalized online business card and instantly start tweeting with the hash tag, "#twtbizcard," or add #twtbizcard to an @reply.
For the iPhone addict
Some iPhone applications, like Bump and BeamMe, allow you to exchange digital info seamlessly with other iPhone owners. Then there's SnapDat, which sends a digital image of your business card. Choose from more than 40 designs or upload your company's logo, and embed links to your social networking sites. Then you can either e-mail the card to potential contacts or send it to their phones through their SnapDat account.
For the social network queen (or king)
There are so many social networks swirling around that it can be hard to keep track of them all. With Retaggr, you can create a professional digital business card that aggregates all your online identities. After creating a Retaggr profile, you can customize an interactive business card that lets people get your contact information and browse your Flickr photos all at once.
For those who miss Tamagotchis
The animal-shaped darling of digital business cards, the Poken has seen popularity overseas, but hasn't quite caught on in the United States yet. You can wirelessly exchange contact information and social networks with another Poken user by "high-fouring," or touching the paw-like RFID connectors together. To download your new contacts, you insert the Poken in your computer's USB port . It's cute and easy, but only works if you come across another Poken user, so in the meantime, keep carrying that stash of business cards.
E-mail to a friend

All About Technology