(CNN) -- The space shuttle Discovery landed in California on Friday evening after bad weather near Kennedy Space Center forced it to wave off a landing in Florida.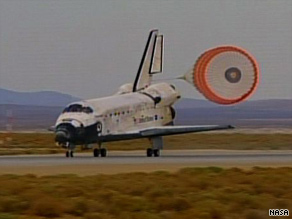 Discovery landed at Edwards Air Force Base after a 13-day mission to the international space station.
"Welcome home Discovery," mission control said after the shuttle landed. "Congratulations on an extremely successful mission, stepping up science to a new level on the international space station."
The shuttle touched down at 8:53 p.m. ET at Edwards Air Force Base in the Mojave Desert, where NASA described the weather as "pristine."
This may be the last California shuttle landing, because there are only six missions remaining on the NASA schedule, unless Congress gives the space agency more money.
Flight controllers prefer landings at Kennedy Space Center because of cost and schedule.
A California landing adds a week to the turnaround time before the shuttle can be ready for another mission. NASA has estimated it costs about $1.7 million to bring a shuttle home to Kennedy Space Center from California. It rides cross-country piggy-back on a Boeing 747.
Discovery was initially scheduled to return to Earth on Thursday, but poor weather in central Florida forced a delay.

Watch the shuttle land in California »
Both Florida landing opportunities Friday were canceled by "a very deep moisture system that descended over the Florida spaceport," a NASA spokesman said.
The seven astronauts are wrapping up a 13-day mission to the international space station, where the crew made repairs and delivered supplies.
Don't Miss
The crew executed three spacewalks and dropped off the Combined Operational Load Bearing External Resistance Treadmill, or COLBERT treadmill, named after comedian Stephen Colbert.
Colbert won an online poll conducted by NASA to name the newest space station compartment. Instead, Colbert and the space agency worked together to give the moniker to the treadmill. The new compartment was given the name Tranquility.
While in space, mission specialists Danny Olivas and Christer Fuglesang installed an ammonia tank on the international space station. The depleted tank assembly is being returned to Earth in the shuttle's cargo bay.
The tank is part of a cooling system that cycles 600 pounds of ammonia through the space station to "get rid of excess heat generated by the station's systems," NASA said.
Astronaut Nicole Stott remained at the space station as a flight engineer, replacing astronaut Timothy Kopra, who returned home aboard Discovery as a mission specialist, according to NASA's Web site.
Another space icon is also coming home aboard the shuttle -- Buzz Lightyear.
The 12-inch Disney/Pixar action figure has been aboard the space station for more than a year, according to NASA.

The action figure went into space aboard Discovery in May 2008 as part of a joint initiative between Disney and NASA to encourage students to study math, science and technology.
Weather and technical problems delayed Discovery's launch three times before the mission began.
E-mail to a friend

All About NASA • Space Shuttle Discovery • Stephen Colbert