By John D. Sutter
CNN





(CNN) -- Today's Internet is governed by the idea that crowds of people can create the news, share information and collaborate on online projects.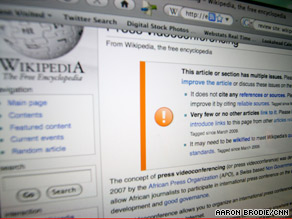 User-generated content sites like Wikipedia appear to be evolving. Some experts say they need more rules.
So when Wikipedia, the user-written encyclopedia that's built an empire on this ideal, decided this week to add a layer of oversight to its system, the Web erupted in debate.
The popular encyclopedia, which has drawn criticism for inaccuracies, says it will try assigning editors to some of its entries. These trusted volunteers likely would have to approve public edits before they're published to English-language stories about living people.
Some see the move as a shift away from Wikipedia's core values and a sign that crowds of people aren't able to produce a usable and accurate body of information.
Others see the change as a sign that these communities of online volunteers are getting more complex and they may need more rules.
Since Wikipedia was founded in 2001, a number of sites have popped up employing its basic philosophy that users can control the content of the Web.
Some, like YouTube and Digg, leave control almost totally in the hands of their online communities.
On the other end of the spectrum are sites like Flickr, the photo-sharing site, or CNN's iReport.com, which have structured community guidelines and are maintained by community managers to promote a respectful and productive experience for users.
The idea that a user-submitted content site like Wikipedia can be a free-for-all has passed, said Caterina Fake, the founder of Flickr. She cheered Wikipedia's decision, because without rules like those the site is testing, the encyclopedia would devolve "into chaos," she said.
"It would basically be like a wall of graffiti in a bathroom," said Fake, who runs a site called Hunch. "It's not going to be a very high level of discourse."
She also believes the changes will help Wikipedia address its problems with inaccuracies.
In January, for example, Wikipedia entries about Ted Kennedy and Robert Byrd falsely stated both U.S. senators had died.
Wikipedia in the past has frozen some of its pages about people or events that have become sensitive. That leads Fake to argue that the changes to the Wikipedia editing process actually make the site more democratic.
"If you really want to participate in Wikipedia, it is open to you so long as your contributions are benefiting the community and everybody kind of collectively decides that your contributions are good," she said.
But others see the changes as a move away from Wikipedia's idealistic roots.
Marshall Kirkpatrick, lead writer at the blog ReadWriteWeb and author of a guide to online community management, said Wikipedia's shift is a sign that user-generated content sites are outgrowing their limits.
"As things get more and more popular online, some of these [Wikipedia-style] experiments realize they need to temper some of their experimental nature and learn from more traditional forms because they're just not sustainable," he said.
"It makes me shed a little tear, too, because presumably it will lead to a slowdown of new content creation, and it does seem like a departure from the essential nature of Wikipedia."
Mia Quagliarello, a community manager at YouTube, declined to comment on Wikipedia, but said that YouTube relies on its community to make decisions about what's important and useful.
Like on Digg, a site where people share and discuss news stories, YouTube gives its users mechanisms to vote videos up and down based on whether the content is worthwhile or offensive.
"We give them the tools to hopefully let the best comments bubble up to the top," Quagliarello said. "You can 'thumbs down' anything you don't think is productive."
John Abell, New York bureau chief for Wired.com, a technology site, said the change at Wikipedia is a cultural "tipping point" for online communities.
But it doesn't mean Wikipedia is failing at its mission, he said.
"They've made a leap here," he said. "I think it's a good leap, a necessary leap, a righteous leap. In the history of Wikipedia, this will probably be seen as a pivotal adjustment."
A spokesman for the Wikimedia Foundation, the nonprofit that runs the site, did not respond to CNN's requests for comment for this story.
Online communities -- particularly those like Wikipedia, which are run by volunteers -- evolve just like real-world societies, said Amanda Michel, an expert on citizen journalism and editor of distributed reporting at ProPublica, a nonprofit news organization.
"As these sites evolve, we should expect them to develop more sophisticated methods, whether they're social methods or technical methods, of quality control and of production," she said.
E-mail to a friend

All About Wikimedia Foundation Inc. • Internet