By Patrick Oppmann
CNN





SEATTLE, Washington (CNN) -- Software giant Microsoft apologized Wednesday for the apparent bad judgment that led to the head of a black model being swapped for that of a white model in an online advertisement.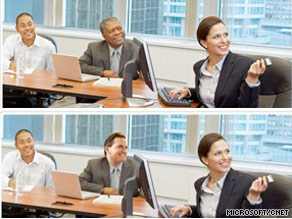 A black man in an online Microsoft ad was replaced with a white man, bottom, on the company's Polish Web site.
The ad -- which showed three business people, one Asian, one white and one black -- was altered on Microsoft's Web site for Poland to place the head of a white man on a black man's body.
"We apologized, fixed the error and we are looking into how it happened," said Lou Gellos, a Microsoft spokesman.
He said that because the company was still reviewing how the swap occurred he could not comment further.
On Microsoft's official page on the social network site Twitter, a posting calls the swap "a marketing mistake" and offers "sincere apologies."
The episode drew widespread criticism on the Internet after Engadget, an influential tech blog, published news of the gaffe Tuesday.
The business Web site CNET.com wrote that the change in models may have been made with the "racially homogeneous" Polish market in mind. CNET is a CNN.com content partner.
E-mail to a friend

All About Microsoft Corporation