By Cherise Fong
For CNN





HONG KONG, China (CNN) -- Are comics made to be read on cell phones, Kindles and iPods the new pulp of pop culture?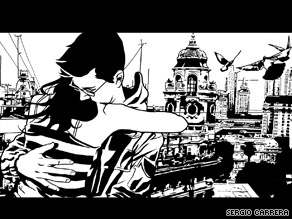 Argentinean artist Sergio Carrera's "The Eternal City" has gained fans around the world.
While mobile manga has become increasingly popular and lucrative in Japan, in recent months start-ups have been mushrooming around the world to bring comics and graphic novels to both loyal fans and new audiences -- all in the palm of your hand.
"I wanted to break all the barriers between comics and their potential readers," said Hermes Pique, director of Robot Comics, a company that produces and publishes comics for mobile devices.
"In a world where 60.6 percent of the population has a mobile, and where mobiles have evolved from phones to all-purpose gadgets, mobile comics seemed the best way to start."
Apple's App Store, a hotbed for mobile innovation, has seen an increase in applications dedicated to reading comics, many of which are also available for other mobile platforms.
Among these, several offer digitized titles from top U.S. comics publishers such as DC Comics and IDW, while Dark Horse has even launched its own series of iPhone comics.
Comic series, like their print counterparts, are usually divided into parts, which in the App Store sell from $0.99 to a few dollars or more for graphic novels. The first installment is sometimes offered as a free preview.
The mobile Kindle reader can display e-versions of graphic novels (albeit optimized for the larger-screen Kindle DX), as can other mass-market e-readers such as Barnes & Noble and Stanza.
Independent developers have also been finding ways to get comics on to handheld devices, from applications that display comics through RSS feeds to others that convert online comics for mobile reading.
If getting the comics onto these devices is one challenge, another is to improve the on-screen experience, evolving from straightforward zoom-and-scroll browsing to more sophisticated navigation.
Some readers offer panel-to-panel transitions that appear to simulate the visual movement of reading a comic book, while other companies work with the artist to optimize each panel of the story specifically for the mobile screen.
Don't Miss
New York-based ScrollMotion is testing its own viral app called "First Things Last," which reads much like a silent film. Josh Koppel, the company's co-founder, believes the technology "offers a totally new way to imagine what a graphic novel is. We built it for graphic artists to make the next generation of comic media."
Enabling artists to reach a new audience through a uniquely engaging experience is seen by many of these start-ups as the key to sustaining their business.
"We see ourselves more like a publisher than a distributor -- ultimately, Apple, Google, Amazon and Nintendo are the distributors," says Pique of his platform-agnostic (but Android-identified) Robot Comics, which is currently represented in both Spain and the U.S.
"While we may partner with some publishers to guide their first incursions in the mobile market, we feel we will make a stronger contribution as publishers of original content ourselves."
So far Robot Comics' biggest impact on the mobile comicsphere has been its original publication of Argentinean artist Sergio Carrera's "The Eternal City," bringing international fame to a touching graphic novel chronicling the adventures of a flawed angel of death.

Watch an interview with Sergio Carrera on CNN Espanol (in Spanish) »
Storyboard artist Jack Hsu, who has recently published his first mobile comic "8-9-3", found that the preparation process was pretty easy.
"The only challenge was to compose and crop the panels, each with its own proportion, to achieve optimal impact on the screen," he told CNN.
"Obviously the small screen limits the number of comic panels that can be displayed at once, but this limitation actually allows me to better control the pace of the information conveyed to the audience. I think it makes for an engaging, hybrid experience between reading comics and watching a movie."
Tapping into talent
From a business perspective, mobile comics publishing is increasingly cost-effective, as well as a new venue for exposing untapped talent.
"The cost of print for comic books and graphic novels has gone up tremendously in the past few years, and many of these new artists simply cannot afford to compete with the big dogs who dominate the comic book stores around the country," says Melissa Pope, co-founder of Genus, the company that published Hsu's latest work.
"Similar to what has happened with Web comics, we hope that mobile comics will become a place where new talent can be discovered."
For Chou Ming Teng, co-founder of the Malaysia-based Manga BlackBox, this was the whole point.
"We started the company to help Malaysian comic artists bring their comics to the iPhone and iPod Touch," he says.
"Traditionally, it's hard for them to get their content out of Malaysia. We think the App Store is a great opportunity to reach a new audience in a different region. It's not possible to print thousands of copies of the comic, ship it to different parts of the world and distribute it. However, digital comics break down that barrier."
Hong Kong-based Crispy Comics launched with the publication of its first series "Super Kaiju Hero Force," created by the company's founders, Casey Lau and Jeff Kwan.
"We have no doubt by this time next year there will be at least a dozen major players in the field offering new and archived content as smart phones get better, cheaper, and replace laptops and netbooks," says Lau.
Already, at least a couple of big-name creators are experimenting with the small screen.
Stan Lee, former president of Marvel Comics and writer of the original Spider-Man, has launched his very own made-for-iPhone series "Stripperella," produced by Uclick.

And in France, where comics and graphic novels are known as the 9th art form, 2006 Angouleme Grand Prize winner Lewis Trondheim's "Bludzee," produced by Ave!Comics, will launch its daily made-for-mobile "strip" on September 1, 2009 -- simultaneously in 19 languages and available for iPhone, Android, Blackberry and Nokia.
So it seems that for this generation of comic artists, interface designers and content creators of all kinds, when it comes to telling stories on mobile screens, they're spoiled for choice.
E-mail to a friend

All About Graphic Novels and Comics