By Breeanna Hare
CNN






(CNN) -- Admit it, runners: When you're on the fifth mile of your fourth run of the week and there's nothing but you, the summer heat and 5 more miles to go, things can get a bit ... boring.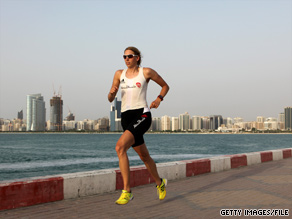 High-tech gadgets and Web sites can help motivate runners and make training less of a chore.
"That's one of the challenges with marathon training, especially if you're not the type of person who runs every day out of habit," said Popular Science Editor Mike Haney, who is training for his fifth marathon.
Haney started running in 2004 and at first eschewed everything but an Ironman watch and a pair of shoes.
As he's gotten more competitive, though, Haney has turned to running gear not only to make him a better, more competitive runner but also to keep him engaged.
"I like running, but having the music in my ear and having the pace on my wrist makes it more palatable," Haney said, "especially when you're going really long distances."
If the spice is gone from your 10k or marathon training, don't toss aside your running log just yet. Sports-equipment manufacturers keep concocting lighter and more technologically advanced gadgets that make running less of a chore.
Even if you're not a gadget geek, road testing one of these may be all you need to rekindle your running flame.
Some tech-savvy runners and trainers shared their favorite running gear.
Don't Miss
Low-tech is the new high-tech
Although shoe developers haven't made a pair that can do the running for you, they have found a way to make running shoes feel more natural, like you're not wearing shoes at all. A popular new breed of shoe tries to simulate running barefoot.
Nike, New Balance and Newton Running all make sneaks designed to give the feeling of an unencumbered "barefoot" gait with the stability of a sturdy yet flexible sole.
The new Nike Free 5.0 ($85) offers a middle ground for those who like the idea of barefoot running but aren't ready to part with the stability a shoe provides. With deep grooves along the bottom, the ultralight shoe allows your feet to move as they please, because the sole bends according to your natural motion.
Then there are the Newton Running trainers (all models $175), which provide a barefoot running experience whether you like it or not.
The shoe is designed to mimic the way a person runs barefoot "because they have protrusions on the forefoot that encourage you to be more of a forefoot striker or midfoot striker instead of landing on your heel," Haney said. Experts say this reduces injuries.
Watch yourself
Runners should know the power of a good heart-rate monitor, as it could mean the difference between winning a race and not feeling prepared enough to even start one. Having a visual reminder of your heart rate lets you develop a consistent pace while knowing whether you should push yourself or slow down.
Today's wrist-wearable computers go far beyond reading your heart's rhythm. Using a model equipped with GPS, speed-calculating shoe sensors (also known as foot pods) and data-analysis tools can be the key to improving your running and inspiring consistency, since you can track every detail of how your performance changes over time.
For trainer and "Running for Mortals" author Jenny Hadfield of Chicago, Illinois, the new Garmin Forerunner 310XT ($349) is the optimal choice.
"The battery life is fantastic, the satellites work wherever I'm at in the world, you can get your heart rate, there's a foot pod so you can get your cadence, elevation, distance, speed, averages of all of those things -- and it's really easy to use," Hadfield explained.
Another option is the new Polar RS800CX ($470), which uses foot pods to measure a runner's speed, distance, route elevation and cadence. Unlike the Garmin, the Polar device can also measure stride length -- how much ground you cover with each stride -- a stat experts say is key in improving your pace.
Tune in
A favorite with athletes around the world despite its lack of GPS technology, the Nike+ Sport Kit ($29) uses a sensor that's tucked inside a compatible Nike shoe to track speed and distance. The sensor then sends that information wirelessly to an iPod Touch or iPhone. The system also works with the older iPod Nano via a small receiver attached to the mp3 player.
You can see how far you've gone, how fast you ran and about how many calories you burned, all while listening to a running mix of your choice, and later upload your data to the Nike+ site.
Nike also offers the slim, watch-sized Nike+ Sport Band ($59), which displays your distance, pace and calories burned and holds 30 hours of workout data.
There's an app for that
If you fear that running without GPS could land you in dangerous territory, there's also the free iPhone application RunKeeper, which takes care of the basics: speed, time spent and distance.
The upside? You've got your GPS-enabled phone, your music and a portable running log, and you can share the status of your workouts with friends on Facebook and Twitter. The downside: The iPhone is a bit bulky, and you'll be sweating all over it in no time, so don't forget to buy a waterproof case.
Run the Web
Of course, if the thrill of a new gadget isn't enough to push you out of the door, peer pressure and friendly cajoling may do the trick, even if it's not face-to-face.
Both Polar and Nike+ have comprehensive Web sites where runners upload information from their runs and find new training plans. With the new, more intuitive NikePlus.com -- the beta version of which rolled out in early July -- runners can create running and fitness goals, log data, track their progress and even challenge others.
Lisa Katayama, a San Francisco, California-based technology blogger and new runner, said the Nike+ system is one of the few things that keeps her going.
"For me, [the Nike+] is crucial," she said. "It has the biggest and strongest online community in the world, it's easy to use, and it's really well integrated with the Web, so you can share with your friends."
E-mail to a friend

All About Exercise and Fitness • Technology