By John D. Sutter
CNN





(CNN) -- Online music is confusing these days.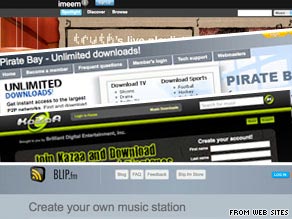 Web sites are giving people new ways to find and enjoy music.
It's hard to tell what's legal when once-defunct sites like KaZaA and Napster --former bastions of illegal downloads -- crawl out of the grave with legit subscription plans.
And digital music offerings are expanding.
Instead of buying CDs or downloading songs, younger consumers appear to be shifting toward streaming music online and on mobile devices.
That's partly because music streaming services like Pandora are largely free, and also because younger people aren't as tied to the idea that music must be owned to be enjoyed, said Russ Crupnick, a senior industry analyst at NPD Entertainment, which conducts market research.
In a survey released earlier this year, NPD Group found the number of teens streaming music online jumped from 34 percent in 2007 to 52 percent in 2008. CD sales and music downloads dropped over the same period.
It's unclear which online music models will survive, said John Simson, executive director of SoundExchange, the nonprofit that collects royalties for recording companies and artists.
But some music industry experts say the shifting landscape of digital music could help save struggling musicians and record companies.
Don't Miss
Rich Bengloff, president of the American Association of Independent Music, said power is in the hands of consumers.
"To survive, music labels must get revenue from multiple sources, with the consumers deciding which of these sources they want to use to access music," he said in an e-mail. "These sources need to include streaming services like Pandora, SomaFM, Yahoo, etc. and subscription services like Napster and Rhapsody.
"These services are good for the industry as long as artists who create the music and the music labels that invest in that music creation receive fair compensation."
To help you sort through the many options, CNN.com compiled a list of 10 sites that are rethinking how people access music on the Internet.
Try them out and let us know what you think with comments on this story.
Subscription services
Some sites, like eMusic, offer monthly fees for music downloads. Others, like Rhapsody, let subscribers stream music on demand.
eMusic
An indie-music fan favorite, eMusic is a paid subscription site that lets users download a certain number of songs per month. The baseline plan offers 24 songs per month for $11.99. Bonuses: free song previews, and new users can download 35 song files for free.
You may remember the days when KaZaA was the post-Napster king of illegal music downloads. The former peer-to-peer file sharing site had been shut down but recently came back to life in a legal form. Its service costs $19.98 per month for unlimited downloads from KaZaA's catalog of 1 million songs, which is relatively small compared with its competitors. The blander, legal site isn't getting much love from reviewers.
Crupnick, the analyst, called Rhapsody the "grandfather" of the subscription sites. Owned by RealNetworks, Rhapsody lets users play any of its 6 million songs on demand for $12.99 per month. That's pricier than some, but the site comes with an air of respectability and a variety of songs.
The site was big in the '90s before it closed amid legal wrangling over copyright. It's back now, owned by BestBuy, and offers a $5 monthly plan that gives you access to stream Napster's 7 million songs on demand and to download five music files per month. It has a larger catalog than any of its close competitors.
Free online streaming
These sites let listeners stream music over the Internet, usually for free, instead of downloading it to their computers. Some of the sites don't always give consumers song-by-song choices of what they're listening to.
The most buzzed-about music site at the moment, Pandora users create their own radio stations simply by typing in the name of an artist or song they love. Pandora's computers analyze your choices and stream music that's similar stylistically. After legal battles, the site recently reached an agreement in which it pays royalties to musicians and record companies.
The former social network juggernaut now is known mostly for its music site, where bands blog, promote new albums and often offer up full versions of some of their songs for users to play on demand. Observers look for the music aspect of MySpace to make or break the original site, which is being eclipsed by Facebook and Twitter.
Social music
Concerts are a social experience, so why not online music? These sites combine elements of online social networking with trends like mixtape trading of the 1980s and our inner desires to be everyone's favorite DJ.
Blip.fm turns its users into micro-blogging DJs. Blip fans post songs they're listening to and make comments along the way in a Twitter-like fashion. Site users can tune into anyone's radio station to learn about new music and to keep tabs on friends' moods. The site also integrates well with social networks like Twitter. So you can also fill your Twitter feed with the latest tunes, if you so choose.
Imeem combines social networking with music discovery. Users can stream music from the site for free and can easily share tracks with their friends. It's essentially the digital revival of the mixtape -- make a playlist and send it to your friends online. No dual tape deck required.
Other takes
The Hype Machine
The Hype Machine offers a new take on the radio station. The site looks for song files posted to music blogs, then stitches together the week's coolest tracks in a single feed. The free service is best for the indie crowd or those looking for something new.
This illegal download site has been sailing troubled waters lately. In April, the site's four founders were convicted of collaborating to violate copyright law and were sentenced to a year in jail. But in May, a Swedish company, Global Gaming Factory, bought The Pirate Bay. Its chief executive recently told CNET the company still has plans to restart the site in a legitimate form. It's still a bit unclear what the business model may look like, however.
E-mail to a friend

All About Music • Internet Music Services