(CNN) -- Phones at help centers across the country rang Saturday, a day after broadcasters halted the transmission of analog signals long depended on by many people without cable or satellite television.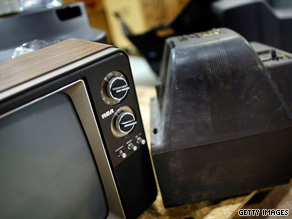 Without a converter box, satellite service or cable hook-up, analog TVs will deliver only static now.
The Federal Communication Commission, on its Web site, said Friday's switch to digital television by 971 full-power stations had prompted hundreds of thousands of calls for help "but caused no widespread disruption of free, over-the-air television broadcasts."
It said 317,450 calls had been handled on Friday alone by the commission's help line, 1-888-CALL-FCC.
"Of the calls handled by live FCC help-line agents, nearly 30 percent concerned the operation of digital converter boxes," the FCC said. "Most of those calls were resolved when consumers were instructed to 're-scan' their converter boxes in order to receive the digital channels that had moved to new frequencies."
According to Nielsen Co., which measures ratings and other television-rated data, more than 6.5 million U.S. households (5.7 percent of the total) were not ready for the transition as of January 22 and would not be able to get any television programming on their sets. That number had been cut in half by Friday, Acting FCC Chairman Michael Copp said.
But that still left more than 3 million households unprepared. In some cases that prove unsolveable over the phone, volunteers are going to the callers' homes and helping them install the converter boxes.
With 4,000 agents answering calls, average wait time on the help line was 4.6 minutes, the FCC said, and 1.8 minutes for Spanish-speaking calls. Agents on average spent over 8.4 minutes per call.
Staffers at one of three assistance centers in Atlanta said they had fielded more than 600 calls from people needing help.
"Most of the calls have been about 'I have the converter box, but I can't get it to work,'" said Helen Butler, executive director of The Coalition for the Peoples' Agenda, which helped set up the Atlanta assistance centers. "Some have been, 'My television has gone blank. What are they doing to me?'"
Don't Miss
Butler said most of those her group is helping are low-income, elderly residents, but are simply not technologically savvy -- people who have bought a digital converter box but can't figure out how to make it work.
Congress ordered the change in 2005 to free analog frequencies for other uses.
Government coupons worth $40 to help offset the cost of converter boxes are available through July 31.
Viewers with cable or satellite hookups aren't affected by the change.
Though he expressed satisfaction with the initial change, Copps said the job is not over. "This transition is not a one-day affair," he said in a posting on the FCC Web site. "We have known about re-scanning and reception issues for some time and have been doing our best to get the word out. We will continue to work with every consumer who needs assistance in making this important and necessary transition."
He added, "Over the next few days, weeks and perhaps months, we need to keep our efforts in overdrive, continuing to conduct a national field, phone and Internet operation. We need to 'search and rescue' viewers who are still unprepared. And we need to remind viewers to rescan their TVs and boxes, and adjust their antennas."
E-mail to a friend

CNN Radio's Barbara Hall contributed to this report.
All About Digital Televisions