By Moni Basu
CNN





(CNN) -- A new kind of refugee is on the rise. And by 2050, there could be as many as 200 million of them.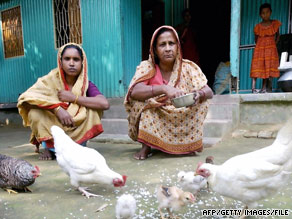 CARE official says people in flood-prone Bangladesh should raise ducks instead of chickens.
They are not fleeing despicable acts of violence or persecution but the very land and water on which their livelihoods depend. They are some of the world's poorest, forced from their homes by global climate change.
Alarmed by the predictions on climate refugees, humanitarian agencies warn that recent gains in the fight against poverty could vanish unless issues of forced migration become an integral part of the dialogue on global warming.
"What can we say? This is not a pretty picture," said Charles Ehrhart, climate change coordinator for CARE International.
Ehrhart helped author a report for CARE that was unveiled Wednesday at climate talks underway in Bonn, Germany. Attended by delegates from 184 countries, the Bonn conference is meant to serve as a precursor to a crucial United Nations Framework Convention on Climate Change summit in December in Copenhagen, Denmark.
That summit is expected to produce agreement on how to tackle global warming after the Kyoto Protocol, which sets binding targets for industrialized nations for reducing greenhouse gas emissions, expires in in 2012.
"The consequences for almost all aspects of development and human security could be devastating," says the new study, cosponsored by the Columbia University's Center for International Earth Science Information Network and the U.N. University's Institute for Environment and Human Security.
Don't Miss
Ehrhart said the breakdown of ecosystem-dependent livelihoods is likely to remain the main driver of forced migration during the next few decades. In the Mekong River Delta, for instance, the sea level rising by 2 meters (6.5 feet) could mean the loss of millions of acres of agricultural land, reducing it by half, Ehrhart said.
Climate change will exacerbate stressful conditions unless vulnerable populations, especially the poorest, are assisted in building climate-resilient livelihoods, Ehrhart said. It's morally imperative for developing nations to adopt policy that addresses these global change, he said.
Simple changes can help address potential catastrophe. In flood-prone Bangladesh, for instance, CARE is helping women who raise chickens switch to ducks. In other regions, it could mean something as simple as changing water-craving crops to more resilient foods.
"So if the rains don't come when needed, you don't lose an entire crop," Ehrhart said.
Ehrhart said climate migration could climb to staggering levels, its consequences reaching far and wide.
Without money or resources, climate refugees will likely stay within their own borders, accelerating movement from rural areas to urban centers and crowding into cities already bursting at the seams.
That could lead to government instability and further unrest.
Koko Warner, head of the U.N. University's Institute for Environment and Human Security and lead author of the report released Wednesday, said the challenge is to better understand the dynamics of climate-related migration and displacement.
"New thinking and practical approaches are needed to address the threats that climate-related migration poses to human security and well-being," Warner said.
For development experts, such as Ehrhart, climate change is a formidable foe that must be tackled. He doesn't want to see the hopes of the world's poorest turned to dust.
E-mail to a friend

All About Global Climate Change • Kyoto Protocol • Mekong River • Bangladesh