(CNN) -- Before President Obama had finished his speech in Cairo, Egypt, on Thursday calling for "a new beginning" in relations between the United States and the Muslim world, the conversation had moved online.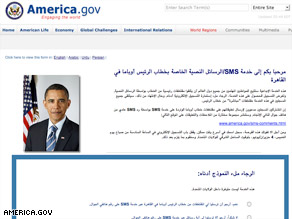 This government site invited people to receive highlights of the president's speech via text message.
"I believed every word he said and I am sure he is sincere, but we wants [sic] action not words," read the text of a message sent from Saudi Arabia to a page set up by the administration at America.gov. "We want to feel that America is friend to us [and] not against us. We want to be treated fairly by you."
Obama revolutionized the use of technology during his presidential campaign, and his administration has aggressively used the Web, including popular online-networking tools, to spread his message since he took office in January.
Political observers believe that his administration wants to use the power of the Web to create a more transparent style of governing that will help win public support.
"In the spirit of engagement, we invited the international audience to submit comments via text message," reads a page at America.gov, which began sending out text updates as soon as Obama's speech began about 6:10 a.m. ET Thursday.
The service was available only for people living outside the United States. The signup form was available in English, Arabic, Persian and Urdu, and several posts to the site Thursday morning were in languages other than English.
Obama's speech, at the Great Hall at Cairo University to an anticipated crowd of about 3,000, was an effort to improve the image of the United States among Muslims. That image has been tarnished in the eyes of many of the world's estimated 1 billion Muslims who have been critical of the U.S. role in the Middle East over the past few years.
Don't Miss
"I'm a Muslim & I'm Proud of You & Every Man Like You Whatever His Religion," read a post from Egypt on a page for the speech on the social networking site Facebook.
More than 1,100 people had signed up at the page by Thursday morning, and more than 100, many from the United States, had posted comments.
"I am feeling a bit bi-polar Mr. President," read a post from Waterloo, Iowa. "Some things you have done make me so mad ... but this made me so proud!"
Administration officials estimate that there are 20 million Facebook users in the Arab countries and is setting up live chats on the site to get a conversation going online.
The U.S. Consulate General in Jerusalem has created a page "[a]s part of our continued efforts to develop and strengthen cooperation with our Palestinian and international audience."
Action at that page was slower Thursday morning; a discussion thread on expectations for the speech had drawn only four comments, and a post asking for responses to the speech had gotten none.
E-mail to a friend

CNN's Jessica Jordan contributed to this report.
All About Barack Obama • Egypt