(CNN) -- The U.S. military is taking its Afghanistan mission into cyberspace, launching social-networking efforts on Facebook, Twitter and YouTube.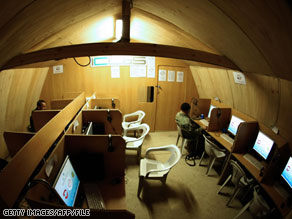 The U.S. military is using online social networks to try to "engage nontraditional audiences."
It's the "first-ever effort by the military in Afghanistan to engage nontraditional audiences directly with news, videos, pictures and other information from Operation Enduring Freedom," according to a news release from the military.
As of early Tuesday, the Facebook page had drawn nearly 5,000 followers, following about two weeks of testing and its official launch Monday. Messages of appreciation poured in, along with well wishes for service members' safety.
The military's news stream on Twitter, the micro-blogging site where users post messages in 140 characters or fewer, included reports of troop losses as well as successes:
"A US servicemember died Sunday in southern Afghanistan due to non-combat related injuries" and "Afghan, coalition forces kill four militants, detain two in Wardak; one detainee believed resp. for a 2008 attack that killed 3 US troops."
The multimedia effort is aimed at "rapidly delivering an unfiltered view of the war from troops on the ground, and opening a two-way dialogue with people around the world interested in the Afghanistan mission," the military said.
A Facebook user by the name of Mark Salamid responded: "This is a GREAT (!!) IDEA..I look forward to getting the updates. Thank you SOO MUCH to our military..I know you don't think of yourselves this way..but every one of you is a hero and we will always be indebted to your for your service to our country. May God bless you all and keep you safe."
E-mail to a friend

All About Afghanistan War • Twitter Inc. • Facebook Inc.