By Steve Mollman
For CNN





(CNN) -- It's hard for an editor to ignore an idea that hundreds of readers have voted for.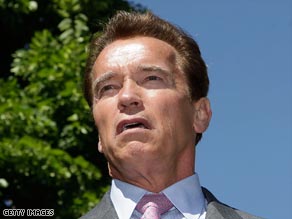 Your question will not be terminated: CNN.com interview with Arnold Schwarzenegger used your 'dugg' questions.
So sometimes it's easier for them not to try. In a recent exclusive CNN.com interview with Californian Governor Arnold Schwarzenegger, questions came from users and readers using Digg Dialogg. It gave readers and viewers a chance before the show to propose and vote on questions that should be asked.
Previous Digg Dialogg guests have been Al Gore and Richard Branson. The result of getting users to vote on which questions they like is that best ones filter up to the top, and the hundreds of bad questions get buried at the bottom.
The interviewer asks only the top-voted questions, and the show's guests can be confident that the questions represent what people want to know.
For CNN's interview with Arnold Schwarzenegger, the question "Does the term 'Governator' bother you?" received 518 diggs; "What makes you a Republican?" got 744 diggs.

Watch CNN.com's Nicole Lapin putting your questions to Gov. Arnold Schwarzenegger »
Digg Dialogg's show started late last year and has seen each episode generate well over a thousand questions. Its motto: "Because it's everybody's business."
That attitude can also be seen at the U.S. web site Ask Your Lawmaker, created by a nonprofit organization. Visitors propose questions for particular lawmakers and vote up the best ones .A reporter in Washington D.C. asks those questions directly to the legislator, and the audience can check out the answers later.
Slashdot, the long-running "news for nerds" site, has done something similar with interviews for a number of years. The cost and technical requirements of setting up a propose-vote system for readers (or viewers or listeners) are marginal. And the readers themselves perform most of the labor.
Given that, the model just might catch on, not just for generating interview questions, but story ideas, too, and other content. The "propose-vote" model differs from services (like Digg or StumbleUpon) that let users submit and vote on stories that have been published already elsewhere.
It's more about the community having a say -- ahead of time -- in how something is produced to begin with. The model might appeal to media companies facing difficult economic conditions.
Local print newspapers in particular are increasingly going under or toward bankruptcy (or heading for an online-only model), and their news teams are getting smaller -- yet they face a greater need than ever to better serve their communities.
Don't Miss
With fewer reporters out and about, it'd be helpful to have the community itself propose and vote on story ideas. A news team could turn top-voted ideas into actual assignments and articles. The model could get the community involved in journalism without asking non-journalists to do actual reporting and editing, best done by a news team more likely to apply principles and well-honed skills to the task.
Meanwhile, the community is often better equipped than a small, struggling news team to identify issues that matter to it. A handful of reporters (often glued to their computers) can't always be out and about interacting with people. But the community itself is already out there.
Traditionally, a community has only limited say in a local newspaper's coverage. Editors encourage reader feedback, but often it's only lip service. In reality they're faced with an unfiltered mass of tips, comments, and reader suggestions.
Of course some organizations handle the responsibility with more grace than others. But it isn't necessarily any easier if readers start communicating via instant messaging and Twitter instead of letters and phone calls. It's still an unfiltered mass.
The voting is the key ingredient making "propose-vote" an interesting idea. As one Digg Dialogg visitor blogged: "The first questions I saw there were idiotic ... but these questions had already been buried. Sorting by the most dugg though brought back some really good questions."

Editors, then, can sit back and see what questions (or story ideas) are proposed -- and which ones filter to the top. If they agree with the readership that a top-voted story idea is fresh and interesting, they can assign reporters to it. If not, they can indicate why. (Perhaps they covered the topic already, in which case a story link would help explain their reasoning.)
An icon indicating when a reader-generated idea has gotten the editorial green light would signal to readers that their efforts are being heeded (and that, in essence, the community is being served). How widely "propose-vote" spreads remains to be seen. But if the times call for journalism experiments, this one, it seems, merits being added to the mix.
E-mail to a friend