By Jim Kavanagh
CNN






(CNN) -- It took a group of teenagers just a few weeks to solve a problem that's as old as the sea.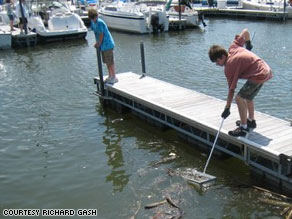 Sea Scout Gabriel Felici uses the flotsam scoop to remove floating debris at Ohio's Lorain Sailing and Yacht Club.
The members of Sea Scout Ship 41 in Bay Village, Ohio, brainstormed and experimented until they had designed a lightweight, easy-to-use device to scoop floating trash out of waterways.
The "Flotsam Scoop" won the scouts a trip to Miami, Florida, and a $30,000 grand prize in the Interlux Waterfront Challenge, a competition -- sponsored by Interlux, a maker of paints for yachts -- to develop projects to improve their local environment.
"It did seem really weird" that such a device hadn't been invented before "because it's always been a problem with anyone who has a marina or dock, that you get garbage and things that gather," said Ethan Brewer, 19, who has been involved in Sea Scouts for four years.
"It was interesting. They used innovative thinking to develop a pretty simple solution to a common problem," said Colleen Wellington, coordinator for Ohio Clean Marinas, a project associated with the OSU Extension's Ohio Seagrant program.
The scoop is an aluminum mesh half-bucket at the end of a telescoping square aluminum handle, said Brewer, the ship's boatswain, or youth leader. It weighs about 5 pounds and won't rust, he said.
Earlier prototypes that resembled a fishing net or pool skimmer were difficult to use or not strong enough to haul heavier objects -- such as dead fish -- out of the water, he said.
Other groups participating in the challenge mostly did one-time cleanup or improvement projects, said Brewer, who also is an Eagle Scout on dry land.
But the scouts, who operate near the mouth of the Cuyahoga River, which famously caught fire 40 years ago next month, wanted to offer a longer-term environmental contribution.
Other winners
These groups won $5,000 regional prizes in the Interlux Waterfront Challenge:

• Punta Gorda Boaters Alliance, for a program to encourage boaters to pump out their heads (restrooms) responsibly
• Connecticut Community Boating Organization, for introducing low- and moderate-income youths to boating and shoreline conservation
• Racine Yacht Club, for inventing a way to filter the runoff from the cleaning of boat hulls
• Lake Havasu Divers Association, for an underwater cleanup beneath the transplanted London Bridge
• 12th & 14th Barrie and 1st Elmvale Scout troops in Ontario, Canada, for cleaning up and improving a lakeside camping area
• Jost Van Dykes Preservation Society in the British Virgin Islands, for teaching students and teachers about local marine and coastal ecosystems
"We thought it'd be a good idea to invent something that we could actually give to the marinas to help them clean up these areas and help them keep up a good appearance," said Brewer, a freshman studying aerospace engineering at the Ohio State University.
The Sea Scouts received crucial support from Brown-Campbell Co. in Maple Heights, Ohio, which donated aluminum, and Mansfield Fabricated Products in Mansfield, Ohio, which built the prototypes.
It helped that the scouts' adult leader, Richard Gash, owns the Mansfield company.
"We have a bright group of kids, very interested in the environment, very interested in helping out," Gash said.
No individual gets the credit for the idea, he said.
"It was totally a joint effort on the part of the Sea Scouts," Gash said. "In our brainstorming sessions we came up with all sorts of contraptions, and I kept pushing them: 'We need simplicity. We need ease of manufacture.'
"It was an economics lesson for them as well, not just an environmental project. The whole project was a learning experience for the boys and girl."
Ship 41 was named the national Sea Scout flagship -- the best in all of Sea Scouting -- last year, Brewer said. It's using the prize money to upgrade its 36-foot ketch, a 20.5-foot power boat and several dinghies, he and Gash said.
The group handed out half a dozen samples of the scoop to local marinas, whose rave reviews helped win the Interlux challenge, Gash said.
There are no immediate plans to patent or market the device, he said, though "I think it has potential," Wellington said.
"I think it would be a great product for a marina to purchase," Brewer said. "The problem is getting somebody to go out and use it."
E-mail to a friend

All About Ohio • Engineering • Environmental Protection