ATLANTA, Georgia (CNN) -- The scene was more reminiscent of a Hollywood production than an elaborate prank by the Punk'd-master himself.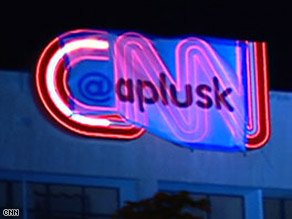 A banner with Ashton Kutcher's Twitter name, aplusk, was unfurled Wednesday over the CNN logo at CNN Center.
Ashton Kutcher, along with his wife, Demi Moore, dropped by Atlanta, Georgia's CNN Center on Wednesday to fulfill his promise to "ding-dong-ditch" CNN founder Ted Turner's house after winning last April's race to attract 1 million followers on the micro-blogging site Twitter.
With the precision of a Hollywood director, Kutcher barked into his two-way radio as his light and sound crews followed with the Twitter entourage hot on their heels and an Internet audience watching on Ustream.
Moments after Kutcher yelled "lights" into his two-way, his crew unfurled a banner with his Twitter name, aplusk, over the CNN's neon logo on the building.

Watch how Kutcher's prank turned out »
"You know, CNN lost. That's what happened," Kutcher told a tag-along crowd of more than 100 fans whom he calls "tweeps." "I'm just fulfilling a promise I made ... that I'd do this thing and I'm doing it."
Kutcher had challenged CNN to the Twitter race, saying he would donate 10,000 mosquito bed nets to charity for World Malaria Day if he beat CNN, and 1,000 if he lost. CNN agreed to do the same. Follow CNN Breaking News on Twitter
Kutcher reached the goal about 30 minutes before CNN passed the mark.
Don't Miss
Kutcher acknowledged Wednesday that he would have to improvise to prank Turner.
"Ted doesn't really have an accessible home, and Ted doesn't really have an accessible doorbell," he said.
In an earlier prank Wednesday, Kutcher and his crew arrived at a Ted's Montana Grill restaurant, which is named after the media mogul.
The group neatly stacked hundreds of boxes of Ding Dongs in front of the restaurant, then each person banged a bronze bell out front.
"Don't be shy; get involved," Kutcher crowed from the top of a U-Haul van filled with Hostess Ding Dongs.

"There are 800 boxes of Ding Dongs. There are approximately 9,600 Ding Dongs here," said the former star of MTV's "Punk'd" show. "We have to deliver these to Ted."
Turner originally founded CNN in 1980, but he is no longer affiliated with the company.
E-mail to a friend

All About CNN Center • Ted Turner • Ashton Kutcher • Twitter Inc.