By Sean Callebs
CNN





NEW ORLEANS, Louisiana (CNN) -- The students in Alita Richard's art class at Mcdonough Elementary School #42 work diligently, quietly with a laser-like focus.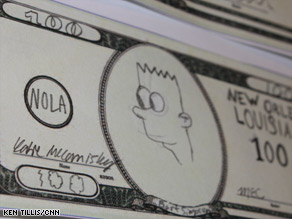 Schoolchildren create whatever they choose to decorate the "Fundred Dollar Bills."
What kid doesn't like to draw, especially given a great deal of freedom to choose his or her own subject?
They are creating Fundred Dollar Bills.
Think of a five-dollar bill, and instead of Abe Lincoln's face the students create whatever they choose to fill in the oblong space.
This fake money has a very real purpose. Mel Chin, a conceptual artist from New York, dreamed up the idea as a unique way to fund an extensive effort to clean up the dirt in New Orleans.
"I came to New Orleans after Katrina to try to help like many people, and I began to discover problems that preceded Katrina, " Chin said. "The problem specifically is lead in the soil at such high levels that it threatens people that live within 86,000 properties within the city of New Orleans."
A couple of things are important there.
It is a problem that pre-dates the punishing effects of Katrina, and it is so widespread it threatens land that covers a great deal of the city.
Planet in Peril: Battle Lines
Anderson Cooper & Dr. Sanjay Gupta take you to the frontlines of the ultimate battle over our natural resources.
Sat & Sun, 11 p.m. ET

Some of the lead came from exhaust belched by old cars back before the days of unleaded gasoline. Some comes from factory emissions. But a lot of it comes from old lead-based paints that were used on homes.
"And, what has happened is these particles have floated around and have ended in the soil," Chin says. "The soil is now the sink and the source of the lead, and our specific project, 'Operation Paydirt,' is to transform that threat."
Chin quotes a host of medical studies that show ingesting lead can lead to horrific health problems, especially for the young.
"Because lead is readily absorbed, it goes to the brain and the blood, and the bones of a child," he says. "It affects mental capacities. It creates aggressive tendencies."
Kids play in dirt. They track into houses. Inadvertently they wind up ingesting a certain amount of dirt. Parents may not like it, but it's what kids do.
Effects are especially tough on children from birth until they turn about three -- the time, doctors say, the brain is developing.
"The levels are much higher than the allowable levels that have been set by the EPA," Chin said.
Don't Miss
That's the problem. The traditional solution to deal with lead in soil has been to simply dump clean dirt on top of the contaminated dirt.
That only covers up the problem. And, in a city like New Orleans, it is unrealistic to think you can find enough fill-dirt to adequately deal with widespread contamination.
Working with soil scientists Chin found out about a different way to combat lead in the dirt.
Researchers have discovered that by mixing a low-level calcium phosphate in contaminated soil, it basically neutralizes the harmful effects of lead, cadmium and other harmful metals.
"That is why 'Operation Paydirt' is promising. It wants to be transparent. It wants to deliver the message that there's a problem," Chin said. "It wants to deliver the solution to that problem."

Watch how "Operation Paydirt" works »
Dr. Andrew Hunt, a soil scientist at the University of Texas in Arlington, says it doesn't take the lead out of the soil, but the phosphate allows the contaminants to pass relatively harmlessly through the body.
As you might guess, this solution doesn't come cheaply. It is estimated it will cost about $300 million to add phosphates to the soil.
And that brings us full-circle back to the Fundred Dollar Bills.
Chin wants to create $300 million worth of Fundred Dollar Bills.
"And then we'll take all the bills to Congress, where we will ask for an even exchange of 300 million real dollars," Chin said.
He has a Web site called Fundred.Org and anyone can go on and create a Fundred Dollar Bill and send it in.
The conceptual artist has what he calls a Safehouse in the 8th Ward, in a neighborhood called St. Roch. The building really looks like a safe. The walls are adorned with Fundred Dollar Bills, some coming from celebs like Uma Thurman.
But most, the talkative artists says, came from schoolchildren.
"We go to schools because that's where children are," Chin said. "And since lead compromises educational capacities, we felt that was appropriate."

Chin has a long way to go.
But he is passionate. And he is convinced that as more people tune in to the idea of Fundred Dollar Bills, they will agree it's the best way to clean up the dirt.
E-mail to a friend

All About New Orleans • Hurricane Katrina