By Greg Sandoval






(CNET) -- Universal Music Group and Google are now partners in the music-video business.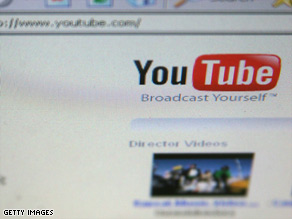 YouTube and Universal Music Group are joining to create Vevo, a new music video site set to launch later this year.
The largest of the four top recording companies and YouTube's parent company announced on Thursday that they are working together on Vevo, a new music and video entertainment service set to launch later this year.
YouTube will handle the technology while Universal Music supplies the content. The two companies will share ad revenue.
The companies said and at this point it appears that Universal's content and artists will be the only label represented on the site. However, Doug Morris, Universal Music's chief executive, said in a conference call with the media that he is in negotiations with other top record labels and is confident they will join.
Google CEO Eric Schmidt said on the same conference call that YouTube and Universal Music have renewed their existing licensing agreement. YouTube will continue to be licensed to allow visitors to use songs from Universal Music. Professionally made videos from the label will only appear on Vevo, the companies said.
This is the first time that YouTube has launched a satellite Web site, Schmidt said, but he added that he hopes there will be more.
For Universal Music, the move means that Morris has obtained the standalone music-video service that he has long wished for. Ever since MTV became a cultural force and huge financial success by offering music videos on TV, the record industry realized that it goofed in thinking of music videos as a promotional tool. Morris has said that in this era of declining revenue in the sector, he doesn't see anything as "promotional" and argues that music videos are worth cash.
In September, CNET reported that Morris was looking for a way to build his own video site. It appears now that Morris already had the partner he needed in Google. Sources close to Universal Music said last year that Morris wanted his artists' videos to be given a higher profile and presented to viewers with higher-quality video than what YouTube offered. But where could he go to find an audience as gigantic as YouTube's? Vevo undoubtedly will have what Morris wanted.
For Google, which acquired YouTube in 2006, the agreement continues the company's streak of signing partnerships with top entertainment companies. For the past year, YouTube has been steadily shedding its rogue reputation among music, film, and TV companies.
On Monday, CNET reported that Sony Pictures is in talks about licensing some full-length films to YouTube.
When it comes to challenges, the new joint venture faces plenty. While Universal Music's YouTube is by far the largest on the site, with nearly 4 billion views, nobody knows for sure whether a standalone music-video site can attract a big audience or ad revenue.
The question is whether Universal Music's content is attracting viewers to YouTube or whether visitors stumble on to the videos while they are already on YouTube. Either way, the companies say they are confident that the site won't have any trouble drawing fans.
"We believe that at launch, Vevo will already have more traffic than any other music video site in the United States and in the world," Morris said in a statement, presumably referring to the traffic Universal sees at its YouTube channel." And this traffic represents the most sought after demographic for advertisers, especially as advertising dollars continue their shift from old media to new."
E-mail to a friend

© 2009 CBS Interactive Inc. All rights reserved. CNET, CNET.com and the CNET logo are registered trademarks of CBS Interactive Inc. Used by permission.