By John D. Sutter
CNN





(CNN) -- Once in a while, a gut feeling and some human instinct can out-think a computer.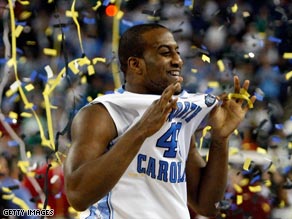 A professor says people, not computers, were most successful at predicting the NCAA basketball tournament.
That's what happened this year at the NCAA men's basketball tournament, as computer models trying to predict the outcome of March Madness generally fared worse than their human counterparts, said Joel Sokol, a professor at Georgia Tech in Atlanta.
"This year, it was sort of revenge of the humans, in a way," he said.
It's a trend for computer scientists like Sokol and statistics junkies to use online data to try to pick the winners of the notoriously random tournament. About 40 people and groups use Internet statistics -- like team records and point margins, for example -- to publish such reports on college basketball, said Kenneth Massey, whose Web site, masseyratings.com, lets users compare the analyses.
All of those data tend to supplement America's obsession with predicting the tournament's outcome. From office workers to the president, it seems most everyone participates in the vague science of "bracketology," as sorting out the single-elimination tournament is sometimes called.
According to Sokol, computers usually do better than people at filling out tournament brackets.
But not so this year, he said.
The professors' computer model, which correctly named the Final Four and tournament winners in 2008, picked only one of the Final Four teams this year. That team was the University of North Carolina, which Sokol and his computer correctly said would win the Big Dance on Monday night.
This year, many people who used their gut feelings or basketball savvy made better predictions, he said.
"There are things like injuries that [computers] can't take into account," Sokol said. "They can't watch a team and just say, 'Hey, this team looks really good,' which is something that humans can do. And sometimes, human experts are really right about that.
"And this year sort of is one of those years where the human experts did a nice job."
Tournament predictions by college basketball experts and the group that slots teams into tournament brackets generally fared better than major computer models this year, Sokol said.
And, at the start of the season, coaches and sportswriters voted the winning Tar Heels No. 1 in their respective polls, SI.com reports.
Jeff Sagarin, who has been doing computer ratings for USA Today since 1985, said it's silly to think of the ranking in terms of computers versus humans, because all of the humans use computer models to formulate their opinions.
The best predictions are made using both human instinct and data, he said.
Sagarin, who uses some of the oldest and most respected sports prediction equations in the business, also said computer models can be judged only over the long term. One season is not enough, he said, especially because there are so few games.
He criticized Sokol and his peers for putting out news releases about their successful basketball predictions.
"I'm the guy they all want to beat," he said.
In one model, Sagarin predicted three of the Final Four teams this year. On a comparison site called thepredictiontracker.com, Sagarin's models are listed as having some of the lowest error ratings. Las Vegas betting lines generally win those comparisons, though.
Sokol's model from Georgia Tech fell short in the middle of the tournament this year.
His computer model incorrectly predicted that the University of Southern California would beat Michigan State in the second round, but Michigan State went all the way to the championship game.
The professors also picked UCLA to beat Villanova, a team that went to the Final Four and lost to North Carolina.
Sokol says there is so much randomness in college basketball -- or in any sport, for that matter -- that computer predictions are difficult.
Still, in the long term, Sokol says his predictions have fared well.
In the past 10 years, Sokol's group has predicted 32 of the 40 Final Four teams, although the computer model correctly chose only four of the past 10 tournament winners, including this year's.
This year, Sokol's Final Four predictions, however faulty, matched up with those of at least one real person: President Obama.
"Actually, our Final Four and his Final Four were the same," Sokol said. "So whatever he used, with his gut or whatever, it must have been pretty good. I guess it depends how you look at it. We would say it was pretty good even though three of those teams didn't make it."
E-mail to a friend

All About NCAA Basketball Tournament • Computer Technology