By Jim Kavanagh
CNN





(CNN) -- Despite the destruction it caused in a massive spill near a Tennessee power plant in December, coal ash has found many uses that benefit industry and even the environment.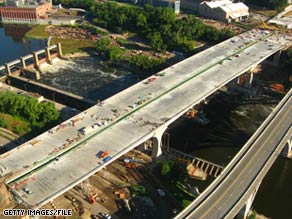 The new I-35W bridge in Minneapolis, Minnesota, was fortified with fly ash. Its predecessor collapsed.
A billion gallons of ash sludge, laced with toxic materials, spilled from a holding pond and fouled 300 acres and two rivers near the Tennessee Valley Authority's Kingston Fossil Plant on December 22.
Forty homes were affected, roads were ruined, and residents were left wondering whether their water would ever be safe to drink.
There are about 300 storage ponds similar to the one that collapsed. To reduce the need to store coal waste products, the Environmental Protection Agency promotes their beneficial reuse.
" 'Waste' is such a bad term," said Chett Boxley, a chemist at Ceramatec, a research company in Salt Lake City, Utah. "It's really not waste at all. It's a material waiting to be made into a great product."

See how burning coal yields useful products »
Coal supplies more than half of the electricity consumed by Americans, according to the U.S. Department of Energy. Just over 1 billion tons of coal were burned for electric power in the United States in 2007, government statistics show.
About 43 percent of the 131 million tons of coal combustion products -- including fly ash, bottom ash and boiler slag --generated in 2007 found beneficial uses, according to the American Coal Ash Association, based in Aurora, Colorado.
However, some environmentalists are skeptical about that claim.
"I'd look at those figures really, really carefully," said Lisa Evans, lead attorney for environmental group Earthjustice's coal project. "I'm not so sure that all of those uses are beneficial."
Improperly handled ash can leach arsenic, lead, chromium, selenium and other toxic materials into ground and drinking water, she cautioned.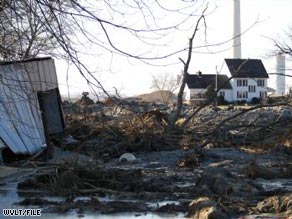 A Harriman, Tennessee, subdivision is swamped by coal ash sludge that spilled from a TVA pond in December.
The EPA sent out letters this month telling utilities to inspect their ash storage ponds and announcing its intention to develop new regulations to prevent future accidents. The letter gave utilities 10 days to respond to questions about their storage ponds.
In 2007, more than 80 percent of coal-plant boiler slag was utilized, mostly for sandblasting or as the grit on roofing shingles. Forty percent of bottom ash became a gravel substitute, fill for embankments or ice control agent, according to the coal ash group.
"Use of coal ash as structural fill is a very, very dangerous use of ash," said Evans, who recently visited the Tennessee spill site. "If you're talking about putting ash in quarries to fill a void, that's a very dangerous use of coal ash."
About 44 percent of fly ash found uses, mostly as a substitute for some of the portland cement in concrete, a use the EPA especially encourages because any heavy metals in the ash are trapped forever. (Concrete is composed of sand, gravel and portland cement to hold it all together.)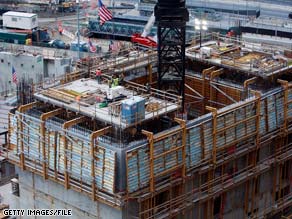 Freedom Tower, on the former World Trade Center site, is being built with fly ash-enhanced concrete.
"That's key," Evans said. "You want to make sure the harmful constituents don't leach out into land, air or water, and concrete seems to fit that bill."
Fly ash makes concrete stronger and less porous, as well as generally less expensive, said Colin Lobo, engineering vice president of the National Ready Mixed Concrete Association, the concrete industry's largest trade group.
Production of portland cement releases large amounts of the greenhouse gas carbon dioxide, so reducing its use helps the environment, chemist Boxley said.
"Not only does the concrete become greener in that sense, but it performs better," he said.
Prominent projects where fly ash has replaced significant amounts of portland cement include the new I-35W bridge in Minneapolis, Minnesota; the Ronald Reagan Government Office Building, home to the EPA in Washington; and Freedom Tower, the complex being built on the former site of the World Trade Center in New York.
California's Department of Transportation is so sold on fly ash's benefits that it requires contractors to replace 15 percent to 35 percent of the portland cement in road concrete with the ash, said Vijay Jain, Caltrans' head of engineering.
Another useful coal combustion product is gypsum.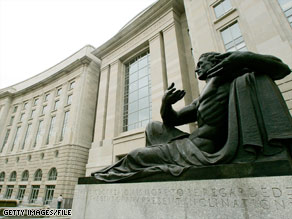 Fly ash is in the concrete of Washington's Reagan Building, home of the Environmental Protection Agency.
The process that smokestack "scrubbers" use to reduce nitrogen oxide and sulfur dioxide emissions creates high-quality synthetic gypsum, said Robert E. Williams, spokesman for U.S. Gypsum Co., maker of Sheetrock brand wallboard.
Scrubbers at electric utility PPL Corp.'s Montour plant near Washingtonville, Pennsylvania, generate 500,000 tons of gypsum annually, plant manager Michael Munroe said.
PPL pipes every bit of it to a new U.S. Gypsum plant right across the road, supplying it with all the gypsum it needs to make 955 million square feet of wallboard a year, said Scott Shaffer, manager of the gypsum plant.
"It's a terrific environmental win-win for everybody involved," Williams said. "You're cleaning the air and then avoiding a landfill, and using it as a useful input for a useful product."
The PPL plant also markets all of its ash for beneficial reuse, spokesman George Lewis said.
We Energies, a utility in Wisconsin, goes PPL one better on that score:
"We're pretty much at the point where we're selling it all and, depending upon the marketplace, actually going into the landfills where we had previously landfilled ash and using that," We Energies spokesman Brian Manthey said.
Still, "the volume of coal ash we're creating is far greater than we could ever put into asphalt and drywall and concrete blocks; the volume is staggering," said Mary Anne Hitt, the deputy director of the Sierra Club's Move Beyond Coal Campaign.

The TVA continues to clean up the mess in Tennessee while the energy industry keeps trying to develop ways to prevent a repeat.
"I don't think there's any conflict between wanting the waste disposed of safely and the promotion of true beneficial reuse," Earthjustice's Evans said. "This was a tragedy, but it gives us now an opportunity to solve a problem."
E-mail to a friend

All About Energy Technology • Tennessee Valley Authority • U.S. Environmental Protection Agency • Global Climate Change