By A. Pawlowski
CNN





(CNN) -- After spending 10 years in the U.S. Navy, Kenric Scarbrough got a sobering start to his civilian career. He was laid off in January, just months after he found a job as a boiler technician -- one of the victims of the worsening economy.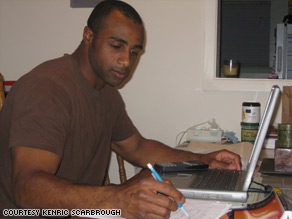 Kenric Scarbrough is working toward an online degree in nuclear engineering technology.
But Scarbrough, 29, is trying to get back on track by doing much more than scanning employment boards and circling help-wanted ads.
The Charleston, South Carolina, resident is working toward an online bachelor's degree in nuclear engineering technology.
He's hoping to more than double his previous salary of $32,000 once he graduates from Excelsior College.
"I was doing nuclear engineering in the Navy," Scarbrough said. "It was something that I wanted to continue to do, and I wanted the degree to go with it."
Scarbrough is not the only one turning to online education to ride out the recession.
Schools offering online degrees or professional certifications are thriving as people who fear being laid off or have already lost a job look for a convenient way to beef up their resumes.
"More and more of the prospective students who are calling us to inquire about our program ... are seeking to earn their degree either after losing their employment, or as a precaution -- driven by a fear that they may soon be unemployed," said William M. Stewart, assistant vice president for institutional advancement at Excelsior College.
The school is based in Albany, New York, but its 32,000 students -- like Scarbrough -- are all over the country, taking classes online and on CD-ROM, and communicating with teachers and classmates via the Internet.
Excelsior appears to be making a special effort on its Web site to reach out to people affected by the recession with slogans such as "Never let a down economy squash your dreams" and "When one door closes, hundreds of new ones open."

See an economic reality check snapshot »
Reality Check: Jobs
12.5 million
Number of unemployed in U.S., February 2009
29 percent
Workers polled who say they're afraid of being laid off
9.4 percent
Analysts' projection of unemployment by year's end
Sources: Bureau of Labor Statistics, Gallup.com, Bloomberg.com
While new enrollments at the college are holding steady, some degree programs are experiencing a boom, Stewart said. The number of people signing up for bachelor of science degrees in technology is more than 40 percent above expectations. Overall registrations for online classes in the last several months are up 30 percent over the same period one year earlier.
'Career changers'
Not everyone turning to online education is going for a degree.
On the West Coast, Bryony Quinn has been doing odd jobs to try to cope with the brutal economic landscape. The 41-year-old career coach has been a small-business owner for more than a decade, but her client base was decimated last fall, Quinn said. She is also upside-down on the mortgage on her Oakland, California, condo.
To try to broaden her employment options, Quinn is taking online editing courses from UC Berkeley Extension, the continuing education arm of the University of California, Berkeley.
"I've seen a lot of changes in the economy, but nothing like this," Quinn said. "I just know that I have to update my skill set and continue to put one foot in front of the other and try to be as marketable and as flexible as I possibly can."
Once she finishes the program, Quinn hopes the editing certificate she earns will make her more attractive to employers.
Students like her have been flocking to the school in recent months.
"We have seen a surge in enrollments," said Jason Lemon, associate dean and director of online learning at UC Berkeley Extension, which offers dozens of online courses in everything from accounting to project management for students Lemon calls "career enhancers" and "career changers."
"It's a way to either make themselves more valuable where they are or just think about how they might move to a new job," Lemon said.
Worth going back to school?
Higher-education institutions believe that bad economic news is good news for both overall and online enrollments, according to a survey by the Sloan Consortium, a nonprofit organization that seeks to integrate online learning into mainstream education.
School officials look at it as a time of opportunity for students.
"While an economic downturn isn't good for anyone, it is really an ideal time for a working professional to invest in themselves," said Jonathan Kaplan, president of Walden University, which specializes in online degrees.
The school is seeing "strong growth" in enrollment, Kaplan said, with growing demand for its teacher education, nursing and business degree programs.
For those considering a virtual classroom, a career expert advises against seeking an MBA or other graduate degrees as a way to jump-start a career during the economic slump, but says completing a bachelor's degree online may be helpful.
"If you haven't finished your undergraduate degree, that's a good idea, because it doesn't actually matter where you have your degree from, unless it's a top 20 school," said Penelope Trunk, author of "Brazen Careerist: The New Rules for Success."

"An undergraduate degree is kind of like a ticket to play in corporate America."
But for people who already have a bachelor's and are looking for a job, Trunk advises volunteering at a company as a way to build up a resume during a recession rather than going back to school.
E-mail to a friend

All About Education • National Economy