LONDON, England (CNN) -- YouTube began pulling music videos from its United Kingdom Web site Monday after talks with Britain's music licensing group collapsed in a dispute over how much the video-sharing site should pay to host the songs.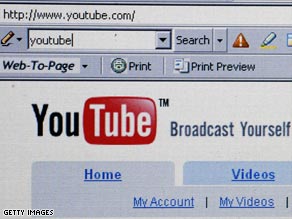 YouTube said it values "the creativity of musicians and songwriters."
The Performing Right Society (PRS for Music) said YouTube -- which is owned by Google -- wants it "to pay significantly less than at present," while YouTube accused PRS of demanding we pay many, many times more for our license than before."
"We were shocked and disappointed to receive a call late this afternoon informing us of Google's drastic action which we believe only punishes British consumers and the songwriters whose interests we protect and represent," PRS CEO Steve Porter said in a written statement Monday.
"Google has told us they are taking this step because they wish to pay significantly less than at present to the writers of the music on which their service relies, despite the massive increase in YouTube viewing," the rights group said in a statement on their Web site.
YouTube's statement said it values "the creativity of musicians and songwriters" and has "worked hard with rights-holders to generate significant online revenue for them and to respect copyright."
"But PRS is now asking us to pay many, many times more for our license than before," YouTube said. "The costs are simply prohibitive for us -- under PRS's proposed terms we would lose significant amounts of money with every playback."
YouTube said another barrier to an agreement is that the British group "is unwilling to tell us what songs are included in the license they can provide so that we can identify those works on YouTube -- that's like asking a consumer to buy an unmarked CD without knowing what musicians are on it."
PRS said YouTube's decision to take the music videos off-line was "without any consultation with PRS for Music and in the middle of negotiations between the two parties."
"PRS for Music has not requested Google to do this and urges them to reconsider their decision as a matter of urgency," the group said.
YouTube said it would continue to negotiate with PRS on a music rights agreement.
"We're still working with PRS for Music in an effort to reach mutually acceptable terms for a new license, but until we do so we will be blocking premium music videos in the UK that have been supplied or claimed by record labels," YouTube said. "This was a painful decision, and we know the significant disappointment it will cause within the UK."
E-mail to a friend

All About Facebook Inc. • Adoption • YouTube Inc.