From Charley Keyes
CNN






WASHINGTON (CNN) -- Who says diplomacy is always serious business? Sometimes it's a game.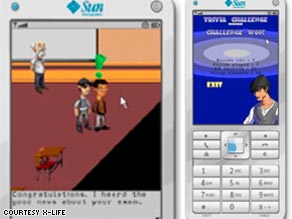 The U.S. State Department says the game is intended to bridge cultures and break down barriers.
The latest U.S. attempt to win hearts and minds in the Middle East and Persian Gulf is a cell phone game called X-Life.
The State Department is spending $415,000 for the project, hoping it will help people improve their English skills and learn about the United States.
"It is just one small part of our outreach," said Tim Receveur of the State Department's Bureau of International Information Programs.
The free game rolled out last week and is starting slowly, with only 120 players so far.
"We've had Egypt, Saudi Arabia and Iran as our biggest customers so far," Receveur said. "We're starting to see it pick up."
Word is spreading through social networking sites such as Facebook and mySpace, and a formal publicity push may come later.
The goal is to have 10,000 people tapping away on X-Life in 12 months, says Ali Reza Manouchehri, CEO of the company that designed the game. X-Life information and sign-up)
Cell phones are far more available than computers in the region. Eventually the game may be made available both online and by cell phone.
The State Department says the game was developed to bridge cultures, encourage exchanges and break down barriers.
It also aims to show the United States in a positive light and illustrate U.S. values such as tolerance, freedom and respect of religious differences, says Manouchehri, CEO of MetroStar Systems.
Manouchehri knows firsthand about bridging cultural divides. He's an Iranian-American who spent his high school years in Iran, an experience that "definitely helped out with the project," he said.
People throughout the world can learn about America "through role-playing, puzzles and trivia," Manouchehri said. "It's a way to educate people through new media tools. The message is engage with us, learn with us, meet new friends."
The game so far could generate four to five hours of play with two adventures or "modalities." Players can take on a role as a student or a musician.
"We are trying to help the users of the game learn English," said Receveur. "They are coming to an airport, arriving at a university, and we sprinkle in some U.S. history."
Manouchehri says the game requires a powerful phone with large memory and only works with Nokia N Series and Sony Ericsson P1i mobile phones. "It's definitely a challenge. I wouldn't say it was a problem," he said. "In two years I'm going to tell you we have exceeded our goals."
If the game proves to be popular, Receveur says, the State Department will look to make it available on more types of phones.
Steve Garfield, a Boston video blogger, media adviser and teacher at Boston University, took at look at X-Life and found the game easy to download but somewhat frustrating to play.
He began the game and won points by fixing a man's broken television. Then he won a scholarship to go to a university in the United States.
But Garfield hit a snag in the game when he was told he needed a visa to get to the United States.
"So there I am, there is nothing left for me to do. I can't leave the room. I can't watch TV. The guy won't say anything else to me, and I'm not sure how to visit a Web site (to get the visa) ... so at this point I would be 'delete,' go on to something else," he said. "I got a free trip to America but I can't get there."
Manouchehri says Garfield and other gamers may need a bit more patience and says there are forums and moderators to help people navigate around any glitches.
Glitches or not, the game is gaining an audience around the globe, with people signing on from Egypt, Saudi Arabia, Iran, Iraq, South America and Africa.
"It shows people are looking for tools like this," Manouchehri said. "It engages people. People are attracted to it."
E-mail to a friend

All About U.S. Department of State